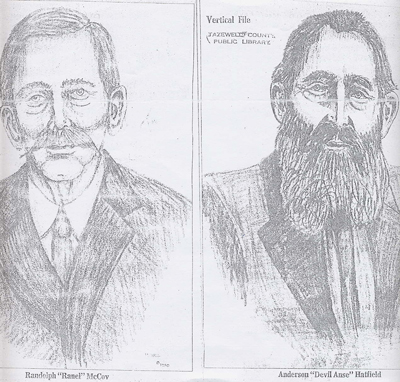 These were the main characters in
The Hatfield/McCoy Feud.
Randolph "Ranel" McCoy and Anderson "Devil Anse" Hatfield.
You will find the story of the feud on Charles Goble McCoy's page.
Randolph McCoy was the leader of the McCoy family in this historical feud and he was a first cousin twice removed to Charles Goble McCoy; a first cousin three times removed to Mary E. McCoy Helfrich; and a first cousin four times removed to Chuck Helfrich. Samuel McCoy had 18 children and one of them was Sarah (Sally) McCoy born in 1829. She married Randolph "Randel" McCoy.
Another one of Samuel's sons was Asa McCoy, born in 1810 & he was Charles Goble McCoy's granddad.
Jackie,

This is a picture I have of Randolph R. McCoy. It looks like the same guy to me. Sarah "Sally", wife of Randolph, is his 2nd cousin Sarah "Sally McCoy daughter of Samuel and Elizabeth Davis McCoy.
Hope this helps,
Peggy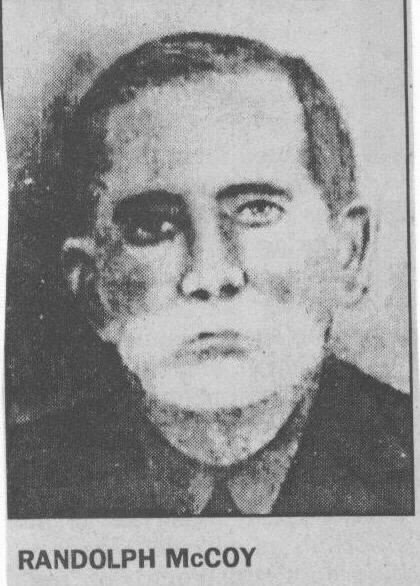 Also from Peggy:
"The McCoys: Their Story As Told To The Author By Eye Witnesses and Descendants"
By Trudy McCoy

Randolph "Randall" McCoy,born 30 October 1825 in Pike Co.,KY, married his cousin, Sarah "Sally" McCoy (born in 1829),daughter of Samuel and Elizabeth McCoy, on 9 December 1849 (they were married) in Pike Co.,KY. Kendall and Sally lived in Logan Co., WV for a short time before moving to Pike Co.,KY. where they remained the rest of their lives. Randolph died on 28 March,1914 after having been badly burned in January 1914. He is buried in the Dils Cemetery at Pikeville,KY and Sally is buried there also.
The Hatfields and The McCoys by Otis K. Rice
US Supreme Court Case of Mahon v Justice,jailer,etc...dated 14 May, 1888
On the VA side of the tug, Randolph, his brother Harmon, and eleven siblings grew up.
In 1878, when the feud began, Randolph was 52 years old, living on Blackberry Fork of Pond Creek in Pike Co. William McCoy, Randolph's grandfather, had arrived in Tug Valley during the first decade of the 19th century (1800's), bringing ten sons and two daughters. Four sons continued the migration westward, but the other eight children remained in the region. The six sons remaining settled on both Ky and WVA sides of the Tug River, just to the North and South of present day Matewan. Because they settled slightly earlier than the Hatfields the McCoys obtained larger and more valuable grants of land right on the Tug. The biggest grant totally 1500 acres went to the eldest McCoy brother, Samuel, father of Sally McCoy, Randolph's first cousin and future wife. Of all the McCoys, Samuel acquired the most land, but the others were far from poor. By 1860, John, Randolph, Samuel, Joseph, and Daniel, all the brothers except Richard, (called Dick) owned acreage well above the average and were worth about $1000 each.