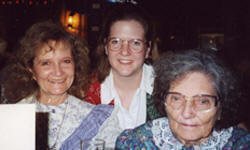 To put this page in it's proper perspective, the family relationship is that Opal Rosalie Greene Jones is a daughter of Tressa Lee Blunt Greene. Tressa was born January 08, 1889 and Tressa was a sister of our granny (Mattie Blunt Josey). Opal is my first cousin once removed.
This is a picture of Joann Laverne Jones Williamson, Kristina Kay Williamson Chester, Opal Rosalie Greene Jones. (mother, daughter and granddaughter)
The picture above was taken at the Blunt Reunion in Texas in 1999. What a sweet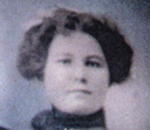 lady Opal is. She walked away with the senior award at the Blunt reunion. Opal enjoyed all of the church's hymns, so I hope her family enjoys the background version of "How Great Thou Art" on this page.
The picture to the right is Tressa Lee Blunt Greene, (mother of Opal) courtesy of Joanne Laverne Jones Williamson.
Joann mailed a copy of her mother's book of poems and stories to me and as I began to read through it, I decided that it deserved a page on this family web site.
Joann also said her mother grew the prettiest flowers around (the Blunt and Davis lines were well known for their gardening, writers and poets.) Opal's poppies were some of the prettiest around, everyone said, so we are putting some on this page & hope the family enjoys them.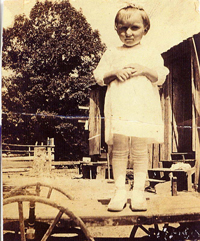 This is a picture of Opal when she was about four years old in her white eyelet dress that her mother, Tressa Lee Blunt Greene, made for her. The picture was taken about 1918.
Here is a picture below of Opal's home taken in 1994. I went by to see Opal many times over the years when I was out doing the family research, and remember her and her unique and beautiful home that was built in the 1920's. There is a sketch of her home below, that I gleaned from Opal's book. I think it is so special. Opal's home is next to the Mt. Zion Baptist Church and the Mt. Zion Cemetery where so many of our relatives are at rest, in Doddridge, AR. The church played a large part in Opal's life. Just click on the pictures below from Opal's book to view some poignant pages.
This is Opal's home below with the Mt. Zion Baptist Church next door and the cemetery with our relatives.