The picture to the right is William "Bill" Timothy Davis, born in 1853, in LA. His parents were Jared/Jarrett/Gar and Rhonea/Phonea Martha Philyaw Davis. William was a brother to Leila Arkansas "Arty" Davis, who was Granny's Mother. Per the book, "A History of Doddridge, Spring Bank, and the Other Communities of Sulphur Township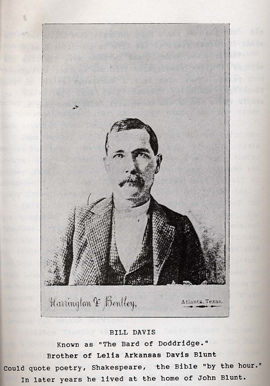 Arkansas", the following information has been obtained:
The Families Greene, Blunt and Davis:

A James Thomas came to Doddridge in 1895 and was a master carpenter and farmer. Upon arrival there he lived with the John Wesley Blunt family until 1907. At that time he married Tressa Lee, the daughter of John Wesley and Lelia Arkansas Davis Blunt (my great-grandmother).

James Thomas built several homes in Sulphur Township, and also helped in the rebuilding of Doddridge after most of it was destroyed by fire in 1916. James Thomas and Tressa Lee had eight children: Hubert Eugene, Marshall Lafayette, Pearl Irene, Opal Rosalee, Royal Albert, Myrtle Alva, James Doyle and Junior Boyce.

The descendants can trace back to Great Great Grandfather Jared Blunt, who was from Georgia. He is known to have been a scout for General Sam Houston, and he fought in the battle of San Jacinto in 1836. In the winter of 1838-39, Jared Blunt was an escort for the Indians on "The Trail of Tears" from the Carolinas, Georgia, and Alabama to the Indian Territory in Oklahoma. This was a mass movement of 15,000 Indians carried out by the United States Government. It was a four month journey in the cold of winter, and 4,000 Indians are said to have died on this journey. Some of these Indians died and were buried on the high bluffs of Red River just west of Collins Bluff and Spring Bank.

*It was during this time also that Jared Blunt married an Indian girl, the daughter of a chief. They had three children:
(1) Wesley John, (This is who I have always found as John Wesley Blunt - my Great-Great-Granddad)
(2) Nelson, and (3) Peggy.

**Wesley John (?), Sr. had two sons, and then he was killed in a Civil War battle in TN.*
One of these two sons was named John Wesley, and he is the one who came to Doddridge from GA, probably a short time after the civil War.

On January 19, 1879, John Wesley Blunt and Lelia Arkansas Davis were married.
Lelia was the daughter of Jared and Rhonea Martha Philyaw Davis, both originally from Alabama.
*I have looked and looked for 25 years and have been unable to find where the Indian comes into play in this family. This history book says it is on the Blunt/Davis side, by saying that a Jared Blunt married an Indian. We wonder if the historian had the names mixed up, because the Jared that we have is Jared Davis (not Blunt) and he was married to Rhonea/Phonea Martha Philyaw, who was supposed to have been:
1/2 French and 1/2 Cherokee
but we are not sure of that with no records to prove it
but just family passed down records
These are my missing skeletons in my genealogy closet:
**(I wish I could find a record of John Wesley Blunt killed in the Civil War in TN)
According to descendants, Jared and Rohnea Davis left Alabama to come to the Doddridge area at some time in the 1850's. they took a boat down the Tombigbee River to Mobile on the Gulf, then across to New Orleans, and then up the Mississippi and Red Rivers to Mooringsport, LA, which was a lake port just off Red River north of Shreveport. From this location, the Davises traveled to Miller County (35-40 miles) where they settled in the Doddridge vicinity.

Jared and Rhonea Davis had six children: Lelia Adeline, who married William J. Westbrook; William Timothy, whose wife's name is unknown, but they had several children, one whose name was Virgil, Green of whom nothing is known; Artie Lelia Arkansas, who married John Wesley Blunt; Bessie, who married Wayne Whittington and moved to Oklahoma; Mary, who married a Smythe and moved to Lewisville, AR.

John Wesley Blunt owned a store in Doddridge for a brief period, probably in the early 1900's. The store was located between the Hemperly store and the creek just south of that location.

John Wesley and Lelia Arkansas had eleven children:
Martha Narcissue (sic) (Mattie), John Nelson, Virgie, Elsie Geneva, Daisy, Tressa Lee, Bamie Valone (Valley), Annie, Wesley Jared, Joseph, and Nora. The Blunt children who remained in or near Doddridge, either most or all of their lives, were Wesley, Virgie, Nora and Tressa Lee.

Lelia Davis Blunt was widely known and admired for the gorgeous flowers she grew around her home. He daughter, Virgie Blunt Peek, was also known and admired for the same reason. They both grew masses of flowers in their yards, and even the edges of their vegetable gardens were banked with flowers of every description. They loved to give flowers to anybody who had a need or an appreciation for them. Virgie Peek gave are loads of flowers to the Bright Star High School for their banquets and graduation ceremonies. She also gave flowers for church services.

William Timonthy (Bill) Davis, Lelia Blunt's brother, was a farmer, but he also came to be known as "The Bard of Doddridge." Bill was no ordinary farmer; he was also a scholar in English literature, and a self-educated man. He was a constant reader, had a remarkable memory and could quote Shakespeare, the Bible, and from works of classical literature "by the hour." Those who knew him, say that he was a most unforgettable character. He spent the final years of his life in the Blunt home.

The Greenes, Blunts and Davises were families who enjoyed a close association with one another throughout many years. They also left a wholesome effect on the Doddridge community because they were perceived as people whose nature was thoughtful, kind and gentle."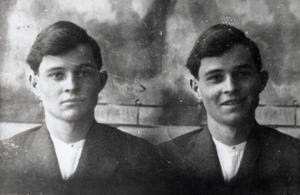 Joseph Alexander (Alex) BLUNT
April 06, 1894
March 03, 1953
58 years, 10 months, 25 days

Am not sure why this is 2 photos in one.
I think Eleanor BLUNT Huddle contributed these, and she is deceased, so if someone else sent it to me....
Contributor, please contact me.

John "Si" Nelson BLUNT
Brother of Mattie BLUNT Josey
B. September 30, 1882
D. June 23, 1977
Buried in Hillcrest Cemetery,
Texarkana, TX
Contributor: Eleanor BLUNT Huddle

Doddridge, AR (Buried in Hillcrest Cemetery, ) Texarkana, TX

Tressa Lee BLUNT Greene- right
Sister of Mattie BLUNT Josey

James Doyle Greene-Center
Tressa's son by her first husband
(James Thomas Greene)
Henry Field on left
(Tressa's second husband)
Fall of 1948
Contributor: Joann Greene Williamson

Tressa was Born January 04, 1889
January 28, 1949
60 years, 0 months, 24 days
Doddridge, (Miller County)
Buried in Mt. Zion Cemetery) AR

1942 - Tressa Lee Blunt Greene
Sister of Granny Mattie Blunt Josey
Born January 04, 1889
January 28, 1949
60 years, 0 months, 24 days
Doddridge, (Miller County)
Buried in Mt. Zion Cemetery) AR

1919 - Nora Blunt Gandy
Sister of Granny Mattie Blunt
Born July 30, 1897
February 07, 1963
65 years, 6 months, 8 days

Buried in Mt, Zion Cemetery, Doddridge, AR


Joseph Alexander (Alex) BLUNT
Brother of Mattie BLUNT Josey
B. April 8, 1894
D. March 3, 1953

58 years, 10 months, 25 days

Buried in Mt, Zion Cemetery, Doddridge, AR




1949 - Inte "Int" Virgie Blunt Peek
Sister of Granny Mattie Blunt Josey
Born February 10, 1884
Died July 02, 1956
72 years, 4 months, 22 days

Doddridge, AR(Buried in Mt. Zion Cemetery)AR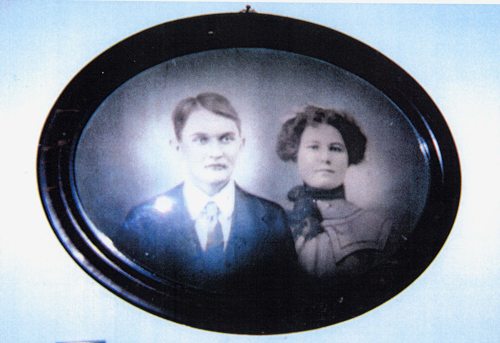 James Thomas and Tressa Lee Blunt Greene - (Tressa was Granny Mattie Blunt Josey's sister)
Tressa Lee was born January 04, 1889 - Died January 28, 1949
60 years, 0 months, 24 days
Doddridge, (Miller County)Buried in Mt. Zion Cemetery) AR
Since we had no photos of Granny Mattie Blunt Josey's sister, Annie Blunt,
I was fortunate enough to find these records (shown below) in Shreveport, LA
when Annie was a student nurse at the Charity Hospital.
I called the hospital and they said that a fire destroyed everything about that time,
so no photos were available.
Annie did work at the Highland Hospital later
and I have attempted to call them, all to no avail as of 09-27-05.