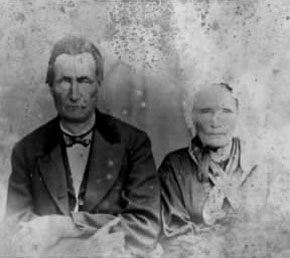 Asa and Eleanor BURRISS McCoy
Uriah McCoy's Parents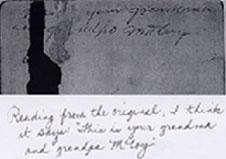 McCOY/BURRISS - This picture above was found again in my mother's photo album.
It states:
"reading from the original, I think it says this is your grandma and grandpa McCoy."
We just received another copy of this photo from Harry Lockhart, a relative, and he said that his photo says it is Uriah McCoy's parents.
I received the following information in 1998 from Kevin.
Kevin, if you are still out there, could you contact me, please?
I can't find the 1850 Logan County, VA Census with Asa and Eleanor
1850 Logan County, VA census
5-19-98
Per [email protected] (Kevin Fraley Highnight)

Asa at age 40
Elansor 30
Children
A. G. A.
Albert
Alex
Alfire
Andrew B.
Emily
Mary
Parla
William
M (?)

Hiram 48
Chole 43
Children
George
Julia Ann
Lewis J.
William J.

Plesant 31
Levicey 28
Children
Andrew

Phoebe 34
Children
Joseph