Above picture courtesy of Sarah Virginia Barlow -
Lucy Carter Josey Barlow's home (we think) in Pine Island, out of Vivian, LA. Southeast of Vivian.
It was located near the Black Bayou Cemetery and near the curve going to Mt. Gilead Cemetery.
Pictured above:
Lucy Carter/Josey/Barlow, born 02/ 24/1848
sitting in the rocking chair.
Her daughter, Winnie Barlow, born 05/13/1892,
is standing on the porch.

Winnie was Lucy's daughter by Luch's second marriage to
Richard (Dick) Wood Barlow.
Lucy was my great-grandmother, my dad's dad's mother.
Susan was my great-great grandmother.

Many folks have told me the story that
Lucy Carter/Josey/Barlow
delivered the mail on a mule in Vivian, LA. in the early 1900's.
Per Enoch Wright, Lucy was a little woman, with red hair and as tough as nails. Enoch said that he was also told that Lucy and her mother each had a cow, and Lucy would go out to herd the cows home at night. But, Lucy would drive her mother's cow home first and then go back and get her own cow. For some strange reason, she would not drive both of them home together. I found that interesting.

2006 - I sent the following e-mail to:

Karen, Dee, Sandra, Joan, Lucy and Carter Researchers:

For about 40 years now, I have been looking for our Unknown Carter that our Susan (Heague, we thought was the spelling) was married to.

Susan and Unknown Carter had my great-grandmother, Lucy J. Carter, May 24, 1850, Marie Antoinette (Nettie) Carter in May, 1850 and Hattie Carter in 1854.

Bud Josey (our national Josey historian) just called and said he had found:
Charles C. Carter married Susan Hague on March 16, 1847 in Platte County, MO
Source was Latter Day Saints Records Batch M515611 from the International Genealogist Records of North America

No need to tell all of you how thrilled I was that Bud went to this kind of trouble to find this elusive ancestor and put a first name on him.
We have no idea what happened to Charles C. Carter, but:
Susan Hague Carter went on to marry a second time to an Elisha Battle Crudupt (many different spellings) in 1854 in Plano, TX and they had four girls, Julia, Rebecca, Eva, Tempe Hortense and one boy, George between 1858 and 1872. These children were supposed to have been born in LA.
09-10-07 - Per Marie Fish Carter
Jacque, on your website you have Susan and Elisha married in Plano, Texas, that is way up in the Texas Panhandle. Panola county is at the Louisiana border and all my information states they were married in Panola Co., Texas.. Could you have mistakenly put Plano instead of Panola?
0. Elisha Battle CRUDUP (John4, Josiah3, John2, Josiah1) was born Abt. 1803 in Wake Co., NC, and died Bet. 1865 - 1870 in LA. He married (1) Louisiana "Louisa" J. ALFORD Apr 14, 1827 in Lebanon, Wilson Co., TN. She was born Abt. 1807. He married (2) Susan C. (HAGG) HAGUE Aug 13, 1854 in Carthage, Panola Co., TX. She was born Abt. 1834 in MO or KY, and died Bef. 1900.

Notes for Elisha Battle CRUDUP:

1850 Coahoma Co., MS - Mechanic age 47 living with Duncan and Caroline Shaw - 1850 Census ?????


Anyone, hopefully, who might be connected to this Charles Carter or Susan Hague Carter, other than the individuals listed in the greeting above?
Keeping my fingers crossed.
Then, Karen Walker replied:

Per Karen Walker, [email protected]

I was just about to get in touch with you. I looked in 1850 for them last
night without success and finally decided to look at every
Charles Carter in NY in 1850.
I DID FIND HIM!!!

Ward 10 of the city of NY, NY Co., NY state, 31 Jul 1850, page 37, family
453-509:
Charles Carter, 35, M, Painter, Conn.
Susan " 18, F, MO
Lucy Jane " 2, F, MO**
Mary E. " 2/12, F NY
I would love to know what "PAINTER" means.
YET.........
**02-2004 - Sara Virginia Barlow said the bible page she has shows Lucy's birth date as
February 24, 1850!!!!!

Lucy married John Thomas Josey (07/17/1870) & they had:
Lula Josey - 1871
Roddie Lee Josey - 12/23/1875
Lucy next married Richard (Dick) Wood Barlow (01/05/1888) and they had:
John Thomas Barlow - 11/18/1889 to 07/11/1955 - **children listed below
Winnie Barlow - 05/13/1892-had no known children
**John Thomas Barlow married (11/24/1912)
Rosa Alabama IVINS - b.06/02/1888 - d. 10/07/1966 & had:
Baby Barlow - 09/05/1919 - 11/27/1913
Living Barlow - 1915
John Thomas Barlow, Jr.-10/02/1917-04/22/1997
Many descendants of some of these Barlows are still living, and not listed on these pages.
A little side note here on the living Barlow above. I had a home economics teacher in high school named Annie Barlow, and never knew that she was married to the living Barlow who is my half 1st cousin once removed.
03/11/2003

Per Virginia Barlow, this family (Winnie's) went to Baton Rouge, LA.
Per Caddo Parish Tax Accessor's Block Book of Caddo Parish, LA, ownership book of January 1, 1918, they (Richard Barlow and Lucy Carter) owned 160 acres: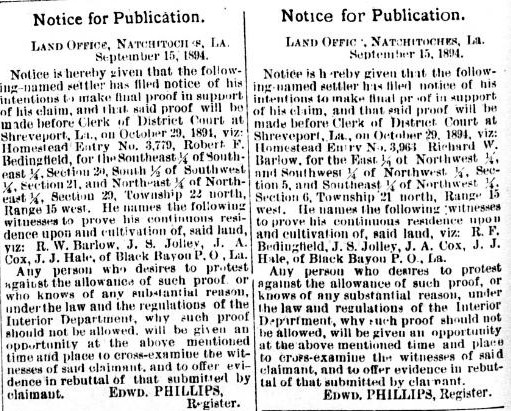 Map of (80 acres) that
Lucy Carter Josey Barlow
owned in Vivian, LA
Close up of Winnie Barlow (sitting) and
Lucy Carter Josey Barlow (standing)

I often wondered why they appeared to live in a tent.

But, when I went to the Vivian Library in October 2005, I found
the picture below and, apparently, this was quite
common in that part of the country (LA)
during that time frame - early 1900's.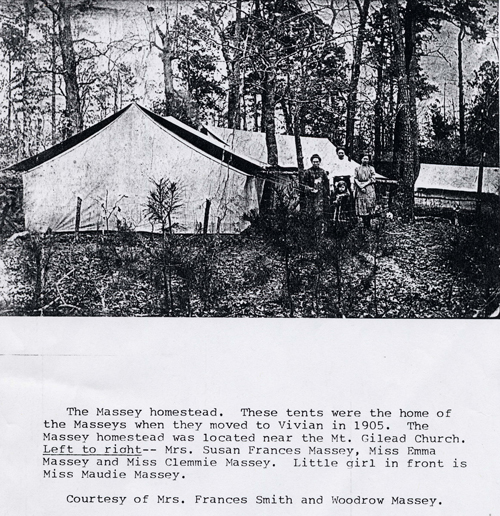 Mt. Gilead Church and Cemetery is where many of our
Josey-Barlow-Ivins families are buried