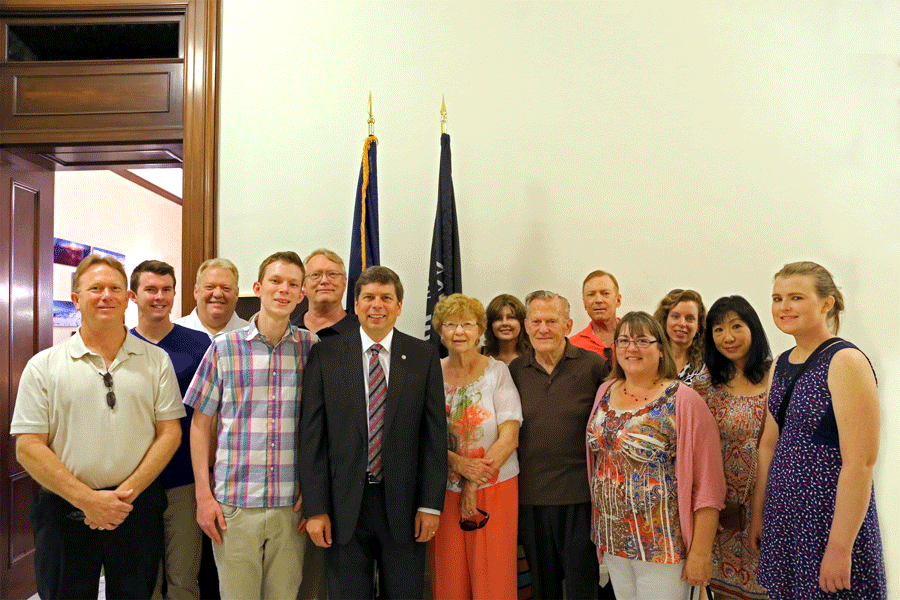 July 16, 2013
Washington, D. C.
Mark Peter Begich
United States Senator From Alaska
Helfrich Family
Paul, Daniel, Les, Michael, Bill, Senator Begich, Jackie, Ellen, Chuck, Ron, Jan, Elise, Yumi, Julia

August 31, 2010
Tampa, FL






Mike Prendergast
Candidate for U.S. Congress
Chuck and I have been impressed with
this candidate from day one.

We joined his staff to help in his campaign,

using every force we could muster.

We truly think he could make a
tremendous difference in our country.

Go get them, Mike!!!!
(Unfortunately, Mike lost, but he will be back!!!)



October 7, 2005
Bossier City, LA

Lorenz "Lo" Walker
Mayor of Bossier City, LA
Colonel, U.S.A.F., Retired


Attending our
FPHS 53 rd Class Reunion
Bossier City, LA

Mayor "Lo" was one of our
FPHS schoolmates from 1951,
just one year ahead of us.
I actually remembered "Lo" when I went back and looked at the yearbook. It was delightful to see him again and to get this picture for my
"Famous People Page"


March 2004
Shreveport, LA
DAUNTE CULPEPPER
Minnesota Vikings Quarterback
Angie Josey Brocato (my sister) Jackie
I had just gotten off the plane in Shreveport, having gone there for another genealogy trip. Several people, including the crew from our flight out on the runway, were having their picture taken by the plane with this gentleman. I asked him who he was and he told me. How little I know about football! He was so nice, and he even talked with Chuck on my cell phone. We had just lost one of our biggest stars, John Lynch, from our Tampa Bay Buccaneers that day, and Chuck told Duante about it. Duante said "well, we will have to see if we can get him for the Vikings then!

A web site for Daunte






I was privileged to meet General Tibbets when I was working on a research project, interviewing attendees at an aviation show in Orlando, FL. He was selling and autographing his book "Enola Gay." He is pictured above with his crew. General Tibbets was the pilot on the Enola Gay, the plane that dropped the first atomic bomb on Hiroshima, Japan, August 6, 1945. I bought a book and he autographed it, as you can see above, on "9-11-02."

11-02-07 - Excerpt on General Tibbets from The Tampa Tribune:


On June 18, 1945, President Truman approved military plans for the invasion of Japan. The initial assault, by 815,000 troops, would begin on the island of Kyushu on November 1, followed five months later by an attack by 1.2 million troops on the island of Honshu. Gen. Douglas MacArthur said it could take 10 years to wipe out the last pockets of resistance, with total American losses reaching 1 million men.

Less than a month after Truman approved the invasion plans,
the first automatic bomb was tested successfully at Alamogordo, N.M.

Because he feared giving protestors a place to demonstrate,
General Tibbets did not want a funeral or headstone.
He requested that his ashes be scattered over the North Atlantic Ocean.


2002
Orlando, FL
GENERAL PAUL W. TIBBETS
And Jackie
Enola Gay Pilot


2005
Jackie in front of the
Enola Gay at the
Air Museum in VA/DC

To the left is General Paul W. Tibbets and me in 2002.
There was a long line at his table all day to buy his book and get his autograph.
The book states "President Truman summoned me to the White House one day,
and he said: "Don't you ever lose any sleep over the fact that you
planned and carried out that mission. It was my decision. You had no choice."

General Tibbets stated that he often thinks of the
well-known sign on
President Truman's desk:
"The buck stops here."

General Tibbets went on to say "I didn't start the war,
I didn't do anything except what I was told to do,
what I had sworn to do, years before, which is
"Fight for the defense of this country."



2000
Tampa, FL
RUDOLPH W. GIULIANI
Mayor of New York City, NY
(In Tampa to root for his NY Giants)

Rudy came through the Tampa, FL airport to attend the 2000 Super Bowl.
I had been fortunate enough to be working at the souvenir table at the airport.
We saw a lot of celebrities that day, but my favorite was Rudy.

In picture 1, he is walking over to shake my hand as I am standing there in awe.

In picture 2, he is shaking my hand as he is talking with a TV reporter
with a microphone in her hand;

In picture 3, he is walking away
as we all held up our hands and waved,
and chanted "bye-bye, Rudy".

He turned around and waved back at us and said "bye, bye"
with that great grin of his. I have always admired him.


A web site for Rudy

2000
Tampa, FL
GAYLE SAYERS
Chicago Bears Running Back

Gayle Sayers and Brian Piccolo were star running backs for the Chicago Bears. Their story was depicted in the movie
"Brian's Song"
Gayle was in Tampa, FL for the Super Bowl. He was autographing a football for me in this picture.
A web site for Gayle


Chuck and Jackie

GOVERNOR/KY
PAUL PATTON

We were thrilled to attend
this reunion, because
Chuck's mother,
Mary Elizabeth McCoy Helfrich,
was a descendant of the
Hatfield and McCoy History


Chuck and Jackie

GOVERNOR/WV
CECIL UNDERWOOD


1999
Branson, MO
ROY CLARK
Singer/Entertainer
And, Chuck

A web site for Roy
We were celebrating Chuck's birthday in Branson, MO. I had booked the Roy Clark show as a birthday gift to Chuck. I asked at the box office if we could get a picture of Chuck with Roy for his birthday, & they said " not possible." During the show, (I had front row seats again) I asked Chuck to go stand by the stage so I could take a picture of him with Roy Clark in the background. Roy saw what I was doing & stopped in the middle of his song & asked if he could pose with Chuck. Then, he chatted from the stage with Chuck about his birthday. Chuck also got an autographed T-shirt from Roy.
What a thrilling birthday for Chuck!


1998
Honolulu, HI
DON HO
Singer/Entertainer



Chuck and I went to see Don perform and we were able to get our pictures taken with him.
We really enjoyed his show.
In addition to being such a great singer,
he is quite a comedian.
A web site for Don



A web site for H. L. Hunt

A web site for Ruth Ray Hunt
1997
Dallas, TX
SWANN RAY LAKE BUCKLES

JACKIE

RUTH RAY HUNT

These were mother's two first cousins, whom she grew up with. Their mother was Grace Sims Ray and Grace was a sister of mother's dad, James Bradley Sims, Jr.
These were two of the loveliest southern ladies one could ever want to meet. We had lunch together and enjoyed a real southern chat/interview
and the only thing missing would be mint juleps.
Ruth was married to H. L. Hunt, the oil tycoon and she is buried next to him. I was fortunate enough to visit with Ruth and Swann three times before we lost them.
H. L. and Ruth's home was known as Mt. Vernon, and it was spectacular.
This picture was taken in that home.
Click here for Ruth's Obituary

1997
Branson, MO
ERIK ESTRADA
CHIPS Star/Movie Star/Entertainer

The grandchildren nicknamed me:"Grammy Jaws")
What a thrill! I got to meet the CHIPS star, Erik Estrada, danced with him and got a kiss. Also got video of it. He is as handsome in person as on television.

AND, he is quite a kisser.
Virgil Sims, if you are reading this, I know you will give me a rough time, since I missed your genealogy computer class at the Sims reunion just to go party with Erik Estrada. You will never forgive me for that, right?



Jackie - Erik - Betty (my sister)


A web site for Erik

1997
Branson, MO
WAYNE NEWTON
Singer/Actor/Entertainer

What a thrill to see Wayne perform in person. My sister, Betty, and I had front row seats and he came out to shake hands with each of us on the front row. I took a great picture of Betty with him, but you can see what Betty did to my picture. Now, is that sisterly love, I ask you? I will put her picture with Wayne on here, IF I ever find it.
A web site for Wayne

1990
Disney World, Orlando, FL
Jackie with Mickey Mouse
(I will always be a kid at heart)






















1988
Palmer, AK
SUSAN BUTCHER
4 Time Iditarod
Champion
(1,100 miles)
1986 - 1987 - 1988 - 1990

I had always admired Susan, and wore her T-shirts
that Les and Jan had given me.
The T-shirts said ""Alaska, where men are men and women win the Iditarod."
So, when Les saw Susan at the Alaska State Fair,
Les asked her if she would pose for a picture with us since
I was such a fan of hers. She was quite the Iditarod Star and Champion.
Les went the extra mile and sent the picture to her for her autograph.
THANK YOU, LES!!!!

02-2006 - We just learned that Susan has been
diagnosed with Acute Myelogenous Leukemia, also known as AML, and is undergoing chemotherapy to be followed by a bone marrow transplant,
once the leukemia is in remission.
We will certainly keep her and her family in our prayers.
She is a special lady and was very gracious to us at the state fair.

Update site for Susan's progress
Be sure to click on the
4 minute video on the right side of the updated page

Updated letter from Susan
A web site for Susan

Susan Butcher Video | ALASKA.ORG
Susan passed away August 6, 2006
and we will always remember and miss her

adn.com | Susan Butcher : Butcher loses cancer fight


1988 - Palmer, AK
State Fair
Chuck, Margie, Les, Susan, Jackie
Susan's autograph says:

"Jackie: It was nice meeting you at the
'88 Alaska State Fair.
Thanks for the support in FL.
Susan Butcher"

1987
Shreveport, LA
FARON YOUNG
Singer/Entertainer

These pictures were taken at our 35th high school class reunion. This was the first and only reunion that Faron ever attended. We were so happy to see him again. He and his band performed for us that evening.
Faron was quite a singer as well as a comedian.
Yes, he did indeed sing
"Hello, Walls"


Margie and Christopher Reeve
A web site for Christopher
1986
New York City, NY

CHRISTOPHER REEVE
(Superman/Actor)

Margie and I were in New York sight seeing and happened to see Christopher Reeve looking in a store window, so we asked him if he would pose for a picture with each of us. We were notorious for that. This is the picture that I took of them, but the one that Margie took of me with him didn't turn out, doggone it!


Margie Sneed - Governor Sheffield - Jackie
A web site for Governor Sheffield
1986
Anchorage, AK

WILLIAM JENNINGS SHEFFIELD
Governor of Alaska - 1982-1986

Margie Sneed and I were visiting with my son, Les, at the company where he worked in Anchorage, AK, and we saw this entourage come into the building. Someone said the Governor of Alaska was arriving, and when he came over to shake our hands, we asked if we could have our picture taken with him. He was gracious enough to oblige. Very nice and personable, even after we told him that we could not vote for him, since we were from Florida and Louisiana.


Click The Row of Stars Above For Page One of This Web Site


This "Main Index" Is For The Listing of Pages On the Web Site