This is Carl's baseball card that sells for
$175.
Carol Owen Hubbell - Hall of Fame pitcher for the New York Giants from 1928 to 1943. He was a southpaw, and pitched twenty-four consecutive victories spanning the 1936 and 1937 seasons
CARL OWEN HUBBELL
Baseball Hall of Famer
June 22, 1903
November 21, 1988

Mary McCoy/Helfrich and Carl Owen Hubbell were related, as Mary's Mother, Nannie L. Virginia Hubbell/McCoy, was a member of this Hubbell family. Carl and Mary had the same 8th Great Granddad, who was Richard Hubbell, Sr.

For Chuck, it would mean that Carl and Chuck had the same 9th Great Granddad.
Carl's burial info is on the McCoy cemetery pages.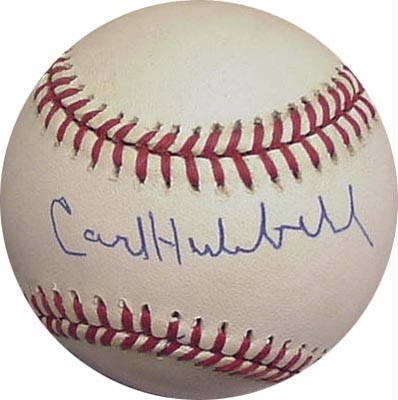 This is Carl's autographed baseball that sells for $805
Carl is most noted for his feats in the 1934 All Star Game where he struck out five Hall of Fame players in a row including Lou Gehrig, Jimmy Foxx, Babe Ruth, Al Simmons and Joe Cronin. He is credited with developing a new pitch called the "screwball", which has the opposite movement from a curve ball.