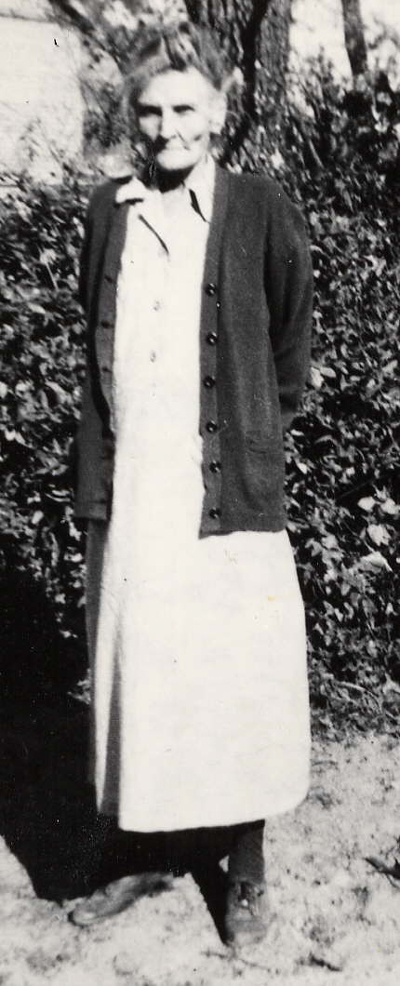 This is Granny's page, who was reported to be an Indian or half Indian. Some relatives have said that both of her parents were Indian, others say that her mother may have been, and still others say her dad was Indian. We have not proven any of those links yet, but Granny looked one hundred percent Indian. This picture to the left was Granny in November 1949 when she was 68, just seven months before she died at the age of 69. This picture depicts how we remember Granny.
To the lower right, is a recently discovered picture of Granny when she was younger, courtesy of our Aunt Lessie. Mattie was born in Doddridge, AR and she was the oldest of 11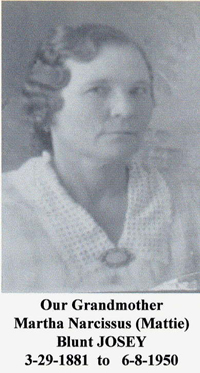 children born to John Wesley and Leila Arkansas (Arty) Davis Blunt, Jr.
There were many, many stories passed down over the years; i.e., my aunt said that she had burned her leg badly, and she went to see Granny. Granny looked at it and said "go on home, and it will be all right." And, it was all right in a very short time. My aunt said she would remember that incident the rest of her life, because it had been such a bad burn. Also, almost everyone brought their children to Granny when they had "thrush" and Granny would take them out into the chicken yard, and the next thing you knew, the thrush was cleared up. My mother, aunt, and many relatives told me those stories over the years.
This picture to the left is one that Aunt Lessie let me copy of Bobby and Don with granny taken in Vivian, LA in 1943.

Bobby and Don are the sons of Ralph Josey, who was a brother of my dad, Roy Josey.
I remember granny looking just like this too.
| | |
| --- | --- |
| | |
| The two pictures above were taken by Leslie Doyle and Vera Buffalo Josey. | They have Granny's blue bowl and I thought some of our relatives would enjoy the pictures. |
Granny had many medicine woman secrets that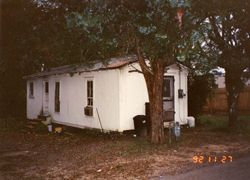 had been passed down to her but she always said she could not tell anyone how she knew about these "cures" and she took those secrets with her to the grave. She healed or cured many a child in Vivian, LA. I heard too many people talk about it over the years, so it had to be true. Some people thought she had "witchcraft powers", but most people said it was just old Indian medicine that had been passed down. Buddy said he had always heard that Granny could make fire appear in the middle of the table when she read a certain scripture from the bible. Here is a picture to the upper right of Granny's home in 1992 and again five years later below in 1997. The home is gone today.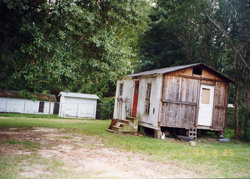 Aunt Lessie also told me about the fact that Granny had managed to buy an entire block of lots in Vivian and gave two lots to each of her four sons. She also had a lot for her house that we all remember so well. Here is the best that I can reconstruct from our conversation:
The house to the right above was the second house that Granny lived in. She first lived in this house, and later rented it out and moved into the upper right house. That is where we spent so many marvelous times with Granny in that little two room house.
| | |
| --- | --- |
| The first house that Granny lived in, until she rented it out & moved into house above. | This was the house that Ralph and Lessie built in 1934 and lived in for many years.. |
| We are not sure about this house. Aunt Lessie thinks it was built after the Josey families were gone. Does anyone know? | This was the house that mother and daddy built and where they lived when I was born in 1934. Address was 200 Bird St. |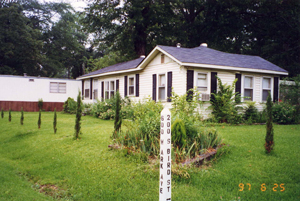 200 Bird St. - Updated picture taken in 1997
Buddy reminded me recently that when he was young, in the 1930's, mother was cutting his hair, and accidentally cut off a tip of his ear with the scissors. Buddy immediately ran to Granny's house down the street, because he felt as everyone did, that Granny could fix the situation, no matter what it was. Buddy and I also talked about how Granny always had a small can of Pet or Carnation Evaporated Milk that she could make last for ages and ages after she opened it. She would pour only a drop or two into her coffee, and then pour a little of the coffee into a saucer for us to drink. Buddy also reminded me of the well that Granny had next to her little house. Granny had dug and set up that well all by herself. It had a wooden bucket to pull the drinking water up in. Then, Granny later replaced the wooden bucket with a metal one and the water never tasted as good as it had from the wooden bucket.
Buddy also reminded me of how he loved to go to Granny's cabinet and get some of her plum juice. I loved her blackberry preserves. She had quite an assortment of canned goods from her garden. Buddy also talked about Granny's HUGE feather bed that was so high that we had to use a step stool to get up on and then you would just sink down into the mattress and have to lean up to peek out of the center of the feather cloud that you found yourself in. Granny also read the bible to us by a kerosene lamp. She would tell us ghost stories when we went to bed and one that Buddy remembers was a true story about the Texarkana Phantom. Check out the following web site: The Phantom Killer
Bo had this memory: "You may not recall, but granny had a lot of art work about her house in
Vivian. Today, I saw a piece of art at the flea market that I know for a
fact she sported. 'picture the heads and necks of three horses, their heads
at different elevations with each other. The name of the painting was "in
stride" I am suffering a minimum of success in finding the painting on the
Internet because of the lack of uniqueness of the name. The seller did not
know the name of the artist. She only knew she wanted 150 for it which I had
trouble justifying.
Jack:

I found the picture I was telling you about. See the attachment. - Later; Bo
(I do not seem to remember it at all - Jackie)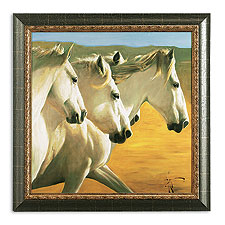 Granny had married Roddie Lee Josey on July 4, 1898, in Doddridge, AR They had five children, one daughter (Lula) born in 1899 who lived to be only a few months old and then four sons. Roddie drank a lot and that was the reason she had him put in jail many times. One time, when he came home, his clothes were on the front stoop; Granny had kicked him out and she had to raise the four boys alone. Not many women did that sort of thing in those days, but Granny was truly a pioneer.
This is not a piece of our history that I am proud of, but Bud Josey sent it to me, I debated about putting it on our family web site, and decided that it is from our history, so here is the following record:
Mrs. M.N. Josey
VS R. L. Josey
Filed May 3, 1915
A.S.Hardin - Dy Clerk
NO. 19675
First District Court
Caddo Parish, LA
Petition.
To the Honorable Judge of the First Judicial District Court in and for Caddo Parish, Louisiana:
The petition of Mrs. N.M. Josey, a resident of your said parish and state with respect represents;
1 That she was married in Miller County, Arkansas, to R.L. Josey, her husband, on the 4th day of July, 1898, and lived with her said husband in said Miller County Arkansas, for a few years, and about the year of 1910, she and her said husband moved to Caddo Parish Louisiana, where they lived together as man and wife until about February 1st, 1913.
2 That the following named children were born issue of the marriage between your petitioner and her said husband, to-wit: Charley 13 years of age, William 11 years of age, Ralph 8 years of age and Roy 6 years of age.
3 Your petitioner futher shows that she has been a dutiful and faithful wife to her said husband, but that regardless of her said husband's marriage vows, he has abandoned your petitioner and that on or about the 1st day of February, 1913, your petitioners said husband was guilty of cruel treatment toward your petitioner, that he struck your petitioner with a dangerous weapon, commonly called a trunk lid, and that he made an assault upon your petitioner with a certain dangerous weapon, commonly called a shot gun, and threatened to take the life of your petitioner;
4 Your petitioner futher shows that said above described cruel treatment and attempt upon the life of your petitioner, is of such a nature as to render their living together insupportable. And a judgment for separation of bed and board should be granted.
5 Your petitioner further shows that she being the mother of the above named children is entitled to their care and custody.
6 Your petitioner futher shows that she should be authorized to stand in judgment and prosecute this suit, she being a married woman.
7 Your petitioner futher shows that her said husband is an absentee he having left the state of Louisiana permanently and a curator ad hoc should be appointed to represent him herein. Wherefore your petitioner prays that she be authorized by the Court to institute and prosecute this action, that a curator ad hoc be appointed herein to represent her said husband in this suit, he being an absentee; that her said husband be cited, through said curator ad hoc to appear and answer this petition, that after due and legal proceedings had, that there be judgment in favor of your petitioner and against her said husband, granting her the care and custody of her above named children, and in due cource, that your petitioner have judgment in her favor decreeing a separation "a mensa et thro" from her said husband. And for general relief. Mabry & Foster Attorneys for Petitioner
RODDIE AND MATTIE BLUNT JOSEY WERE DIVORCED IN 1916
Times were rough in those days, to say the least. She went to Dr. Ray's, the local dentist, and washed his patients' towels. She even had to take in laundry (washing and ironing) to support her four sons. Click here to see a quick story about how they had to do laundry in the old days which mentions Arkansas, where Granny grew up and lived most of her life. Aunt Lessie tells me that the boy's mother had to go around to the houses to do their laundry, and the boys would all stand around the wash pot to keep warm from the fire. In those days, the early 1900's, they had to wash clothes by hand on a rub board or a wash board, (there were no washing machines) and then doing the ironing with an iron cast iron that they had to heat on the wood stove to get it hot.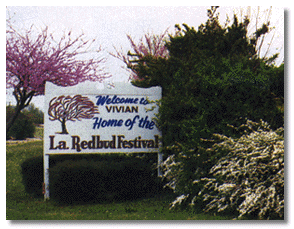 Vivian was a typical little town where everyone knew everyone. To the left are some of the beautiful red buds in the spring that Vivian, LA is famous for. Below is the train depot which is now a historical site. Buddy and I have some fond memories of Vivian and Granny. If you can believe it, one of those fondest memories was when Granny, my brother, Buddy, and I would walk to the cemetery in Vivian, barefoot, and the sand was so hot in the summer in LA. I clocked it some years ago, and it was exactly ten miles round trip. There were no cars then in such a small town, for the most part. One traveled almost everywhere by foot. We walked that distance, got to the cemetery, picked up any trash, pulled weeds off of the graves, had a peanut butter/jelly sandwich lunch and then walked back home.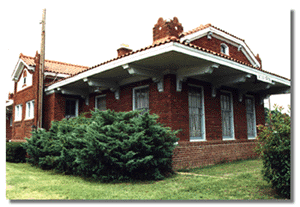 Granny canned anything and everything. Her fig trees and grape vineyards were beyond your wildest imagination. She was quite self sufficient, having a chicken farm, which provided meat and eggs, plus the block long garden and fruit trees the likes of which I have never seen again anywhere. Granny read the bible to us by her kerosene lamps at night. We always attended church on Sundays, with Granny carrying her bible and her white handkerchief with a nickel tied in one corner for her contribution to the collection plate. Here is a photo of the First Baptist Church that we always attended. It has been replaced by a newer church, but I was fortunate to get a copy of the original church from the current minister when I stopped by in October, 2005.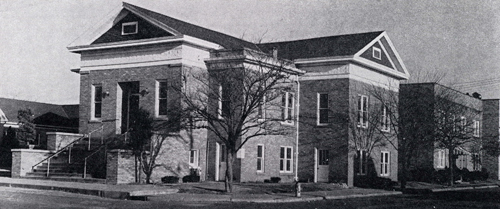 Granny died of ovarian cancer, when I was only 16 and I miss her still so much even today. She left such great heartwarming memories behind with me and many other family members. I have told all of our grandchildren that Granny was a major influence in my life, a great role model, and I always wanted to be the same kind of grandmother as she was.
Her memory will be carried on down through many generations, with this page helping too, hopefully.