RODDIE LEE JOSEY
December 23, 1875
September 08, 1927
This is the story of my
Paternal Grand-dad,
(Roy Lee Josey's Dad)
to the best of my knowledge
Jackie
This will be "Roddie Lee Josey's Oil Derricks in The Sky" page, since he worked in the oil fields, when he was younger. According to our aunt Lessie Josey, Roddie Lee Josey was a hard worker in the oil fields and, later in life, he farmed. In later years, a couple of Roddie's grandsons followed in his footsteps, because they went into the oil industry. Roddie was born in DeSoto Parish, LA on December 23, 1875. The picture to the left is of Roddie (on the far left with the asterisk above his head) and two other co-workers at the oil derricks. The picture is courtesy of Vera Buffalo Josey, who was married to Leslie Doyle Josey (now deceased) who was a son of Charles Lafayette Josey, who was one of Roddie's four sons.
In 1993, I had been working on our family histories for over 25 years and had come to a dead-end with Roddie's dad, John Thomas Josey. I had found John Thomas and Roddie and most of their descendants, but there was a brick wall trying to find John Thomas Josey's ancestors. I had heard about a Josey reunion in Texas, so I took myself and marched right over there. Bud Josey had a "conniption fit" when he found out who I was, because he had been at a dead-end from Robert Jossey, in 1565 to John Thomas Josey in 1849, and he was at his brick wall with John Thomas Josey from the other end. So, we were able to merge his records and mine and have a complete picture. The lineage listed on the Josey Tree page is from the gigantic efforts of Bud and Marion Josey and their many, many years of diligent research on the Josey line, combined with my 25 years of research.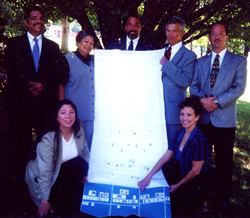 Here is a picture of my brother, James Bradley (Buddy) and Hilda Josey, with their five children holding the Josey ancestor chart that I put together. Shown from left to right are Jimmy, Hilda, Roy, Buddy, Charlie, Betty and Mary. What a great family! I am listing our Josey line from the beginning of Robert Jossey born in England about 1565 and on down to Roddie and then our dad, Roy Lee Josey, born in 1909, a total of 344 years, but counting the living generations of today, this line is traced back 438 years.
Our Josey line is underlined, italicized, and bolded, in order for you to follow Roy and Roddie Josey's line.

1. Robert Jossey - born about 1565, in England. He and wife, Anne S. Potter, had 2 children that we know about: John (b. 6-7-1590) and James (b. about 1600)

2. James Jossey (Gentleman) - born about 1600, in London County, England, and he came to the colonies sometime after 1635. According to Bud's notes on James (Gentleman) in the House of Jossey-Josey book "James Jossey, Gent. was the forefather of our Jossey-Josey Family, arriving in Nansemond County, VA in the mid-1600's. He was named Executor in the will of Major General Richard Bennett, the Governor of Virginia, on March 15, 1674. (Seventeenth Century Isle of Wight County, Virginia, by John Boddie, 1938, P 288.) This established him as a citizen of prominence and substance in the County, as well as a later reference to James Jossey, 'Gent' (leman)." He and wife, Elizabeth Jane Graydon, had a son..........
3. James Jossey (referred to as a Captain of Horse) - born 11-19-1635, in London County, England. We don't know the name of the wife of the horse captain, but they had a son..........

4. Colonel James Jossey - born about 1660, in Nansemond County, VA. Colonel James Jossey had 4 children born in Nansemond County, VA, according to Bud's records, but we don't have his wife's name. His 4 children were Peter (born 1693) there is no further information on Peter Jossey; Mary (born 2/1/1696 - died 9/23/1720) Mary Jossey had 3 children (Samuel Godwin, Jr., Thomas Godwin, and Mary Godwin); Robert (born 1700 - died before 1766) Robert Jossey had 4 children: Mary, Christian, Robert, and John; and James III (born 1702 - died after March 1769) A fourth child apparently died the day of it's birth 9-22-1720, and Mary died the next day 9-23-1720.
5. James Jossey III - born 1702, in Nansemond, VA - and Sarah Jossey had 6 children: James IV, William Robert, Sr., Henry, Margaret B., Sarah, and Willis.
6. William Robert Jossey, Sr. born about 1729, in Nansemond, VA - had William Robert Jossey, Jr. in 1762

7. William Robert Jossey, Jr. - born 1762, in Nansemond, VA - had 8 children born in Edgecombe County, NC. His children were Robert Sinclair - 9/29/1784; Joshua - 1785; James W. - 1787; Benjamin - 1789; Martha - 1791; Nancy - 1793; Margaret (Peggy) - 1794; William Willis-05/26/1796.
8. Benjamin Jossey - born 1789, in Edgecombe County, NC. - married Miriam Belk about 1819, in Darlington District, SC, and they had Benjamin Sidney - 03/20/1820; Massey M. - 1822; William Reese - 1824; Elijah A. - 1825; Jonathan Jeremiah - 07/01/1828; Anna - 1830; Joseph - 1832; All were born in Darlington District, SC.
9. Elijah A. Josey - born 1825, in Kershaw County, SC - married Chrisa, had Martha - 1845; Elizabeth C. - 1847; John Thomas - 1849; Mavian M. - 1854; Henrietta - 1855. All were born in Kershaw, SC.
10. John Thomas Josey - born 1849, in Kershaw County, SC - married Lucy J. Carter July 17, 1870, in Caddo Parish, and they had Lula - 1871 and Roderick (Roddie) Lee 12/23/1875. Roddie was born in LA. No one has been able to identify where and when John Thomas died nor where he is buried.
11. Roddie Lee Josey - born 12/23/1875, in LA - married Martha Narcissus (Mattie) Blunt about 1898 in Caddo Parish, LA or Doddridge, AR, and they had five children: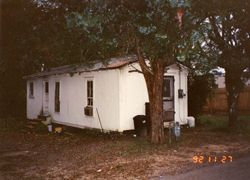 This was the house they lived in, as far as we know
Vivian, LA
1. Lula, born 08-04-1899, in LA, died 02-10-1900 - buried in Mt. Gilead Cemetery, in Vivian, LA;
2. William Thomas Jefferson - 02/05/1900, born in LA, married Isaure Soileau March 22, 1935 and they had two children, and he died 03-09-1959 and is buried in Lafayette Memorial Cemetery, Lafayette, LA;
3. Charles Lafayette - 10/16/1901 born in LA, married an unknown Josephine McMillian and had a Jr. that the family knew nothing about until after Charles died and the family from his second marriage found a letter that was from the war department stating that his son, Charles Lafayette, Jr. had in fact been in the paratroopers and killed in WWII in France during the Normandy Invasion. Charles Sr. married a second time to Arie Zona Kilburn April 22, 1936 and they had two children, and Charles died 05-01-1964 buried in San Jacinto Memorial Park in Channelview, TX;
4. Ralph Alexander - 01/01/1908 born in LA and married a person December 9, 1933 who is still living today and Ralph died December 26, 1987 buried in Vivian Cemetery, Vivian, LA; and
5. Roy Lee- 03/01/1909 born in AR/LA/TX, married Cleo Sims July 30, 1932 and Roy died October 4, 1954 in Caddo Parish, and buried in Mt. Gilead Cemetery, Vivian, LA.
12. Roy Lee Josey - born 03/01/1909 (there is still a question as to where he was born for sure - AR/LA/TX.), but all documentation indicates Nash, TX. Roy and Cleo Sims Josey were married July 30, 1932, in Caddo Parish, LA and had either seven or eight children, of which six are still living and all of those children were born in Shreveport, LA. Roy Lee Josey died October 4, 1954 and is buried in Mt. Gilead Cemetery, Vivian, LA.
Roddie Lee Josey and his first wife, Mattie, divorced in 1916 in Caddo Parish, LA. Bud Josey found that information, but there was no month and no day shown - just "1916."
As to Roddie's life with Mattie, (Granny), what little information we do have is on Granny's page. We were more fortunate to be able to reach live people from recent years to give us more information on Roddie and Eunice.
In April 1919, Roddie married Eunice Edtis Pulliam Kitchens Wright in New Boston, TX. This is where Roddie's second family begins.
1. Elijah Lee "Elza" - 04-04-1920 in New Boston, TX and died 01-15-1937 and is buried in the Josey plot with his Dad, Roddie Lee;
2. Roddie Alvin - 11-11-1921 in New Boston, TX, he married first Doris Evelyn McDaniel, and a second time to a person who is still living today. Roddie Alvin died 05-05-1987 in Fort Worth, TX and he is buried in Greenwood Cemetery in Grayson County, TX;
3. Eddie Leon - 03-28-1923 in Pine Island, LA and died August 7, 1935 and buried in the Josey Plot with his Dad, Roddie Lee;
4. Ninnie Lillian - 05-20-1925 in Vivian, Caddo Parish, LA, married to Lloyd Dicus Patrick, and later to James Talent and thirdly, a living husband. We have tried and tried, all to no avail, to find Ninnie, but we have had no luck; and have no idea if she is alive today or not.
5. Ruby/Hazel/Louise/Cynthia - Still living, so pertinent facts will not be published here.

So, Roddie Lee Josey had five children with Mattie, his first wife and then five more with his second wife, Eunice Edtis, who had been married twice before she married Roddie Lee. She married first William Floyd Kitchens and they had two children, Buel (Bud) Odel and Mildred. Eunice Edtis then married Francis Wright and had Marion Francis Wright. Eunice Edtis married a fourth time, after Roddie Lee died, to a Louis Wright, and they had a son who is still living also.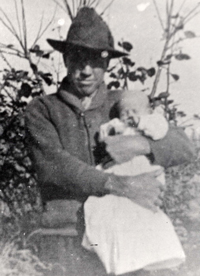 This picture to the left, of Roddie Lee Josey with Roddie Alvin Josey, was taken November 1921, per the notes on the back of the picture: "Roddie Lee Josey - Daddy & Baby - Roddy Alvin at 2 weeks old." Roddie Alvin was born November 11, 1921.
In interviews with Enoch Wright, son of Eunice and her fourth husband, Enoch was kind enough to share additional information on Roddie Lee. Per Enoch, Roddie Lee was a short man, but everyone said he covered every inch of ground he stood on. Roddie Lee could swing a nine pound broad axe all day long, and he made the walking beams that they used in the oil fields, for pumping the oil wells. Enoch said that Roddie Lee was a fine man, very stubborn and determined, with a whole lot of pride. But, he had absolutely no education whatsoever, per Enoch, and he could not read nor write. Roddie Lee also made all of the furniture that they had in their home. He had a broken leg and when it healed, he walked with a limp and that leg was shorter than the other. Enoch states that Roddie Lee was a hard worker and he did work in the oil fields, but Eunice came from a farming family in Mississippi and she wanted Roddie Lee to farm in LA, so he quit the oil fields and began farming. Enoch also said that Eunice gave Roddie Lee's pocket watch to Roddie Alvin, but Enoch does not know what happened to the watch after that unless Delaine gave it to one of their children.
As stated earlier, Roddie Lee had a drinking problem when he was married to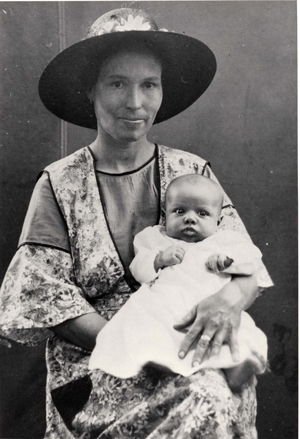 Mattie first, but he finally straightened up, stopped drinking and married Eunice, and there were no further drinking problems, but Eunice and Roddie Lee had some "cussin fights," per Enoch. We know that Eunice was a spirited pioneer and, apparently, Roddie was also. Just another colorful piece of family history.
The picture on the right is of Eunice. The handwriting on the back of the original picture states "Me and little Eddie," so we are assuming that is Eunice's handwriting. Below that is another handwriting "This is Mrs. Josey & Eddie who died at age 8 or 9." Actually, Eddie Leon Josey died August 07, 1935, so his age at death was 12 years, 4 months, 10 days
Roddie Lee and Eunice lived on the Lizzie Plumb place in a four room house the first few years they were married and then they heard about the government homestead act, and they applied for and got the land about a half mile across the woods of 54 and 40/100 acres in the spring of 1927. Shortly after that, Roddie found out that he was sick. Roddie and several others cut down trees and took them to Bill Stewart's Sawmill to have them cut the trees into halves for building the house. But, before they could actually begin building the house, Roddie Lee died in September 1927, per Enoch, of liver cancer. Enoch said they pulled three or four gallons of fluid out of his body, so he must have been in pretty bad shape. He was only 52 when he died. Then, Eunice and her two sons, Buel and Marion began to build the house. They built two rooms and then moved in and continued to build onto the house.
I remember, and Enoch does too, we think it was in the 1930's, when Lillian was bitten by a ground rattler snake and Hazel was bitten by a rattle snake pilot. Eunice took them to the Pentecostal church in Vivian in the south side of the city, and they had a prayer session and they never saw a doctor, yet they survived. Enoch and I were reminiscing about how Eunice always gave them laxatives for all ailments, just as my mother did, for every ailment that came along. They never, never saw a doctor. We also remember there being no electricity, just kerosene lanterns. Also, the milk was kept in fruit jars and a rope was tied around the top of them and they were kept in the nearby stream to keep them cold since there was no electricity, thus no refrigeration. We remember churning butter there also. Roddie and Eunice farmed with every kind of crop imaginable, corn, peas, all vegetables, watermelons, hay, etc. Jack and Coly were the two small black mules that Roddie had to pull his wagon and Jack was the mean mule. Enoch still has one of the wheels off of that wagon in his back ground in the year 2003.
Roddie Lee got his 12 gauge ivory Johnson shotgun (single barrel) by trading four bushels of sweet potatoes for it. The gun was made around the turn of the century, making it more than 100 years old. Enoch said that Roddie Lee killed a hawk with this rifle from 138 yards away, as it was flying. Everyone said that was impossible, but it happened, Enoch said. Roddie Alvin inherited the gun and when he was dying, he told his family that he wanted Enoch to get the gun, so Roddie Alvin's family gave the gun to Enoch at Roddie Alvin's graveside services. Roddie Alvin died of heart problems.
I have been very fortunate to locate all of the children, grandchildren, great grandchildren, gg-grandchildren, ggg-grandchildren, and gggg-grandchildren of Roddie Lee Josey from both marriages. That was a total of six generations researched, from Roddie Lee on down to today. It was a lot of phone calls and trips, and letters and e-mails in this process. I do hope they will all enjoy what I have put together here.
As stated above, with the living descendants today in 2005, we have
16 generations traced back on our Josey side.
Roddie Lee Josey's direct descendants, to date, total 140.
Below is a picture of the home (from two different angles) that Roddie Lee and Eunice started to build, but Roddie died before it could be built, so the rest of his family finished it and lived in it. Roddie and Eunice are both buried, along with two of their sons, next to this home in the Josey Cemetery.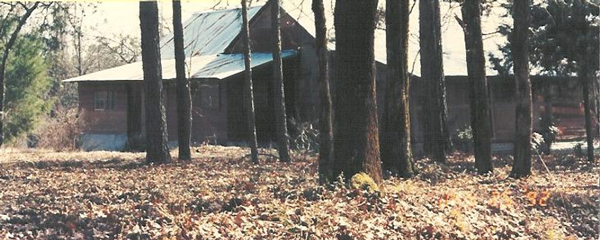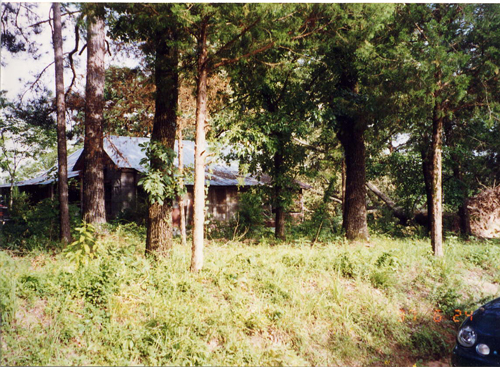 07-23-06 - This property was sold to a teacher in McLeod, a Ms. McLaurin, according to Pat Ann Dumas Wright, wife of James Eddis Wright, who was a son of Eunice Eddis Pulliam Kitchens Wright Josey.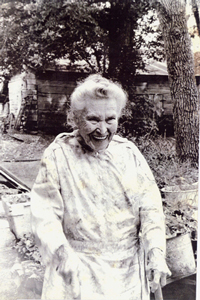 1986
Eunice Edtis Pulliam Kitchens Wright Josey Wright
Eunice's 95th birthday
Eunice survived four husbands that we are sure of, and possibly a fifth husband, I have been told.
She lived to the age of
101 years, 8 months, 3 days
The local newspaper did a very nice full page article on Eunice. She truly lived to see everything from
covered wagons to the space age.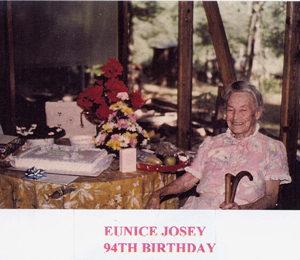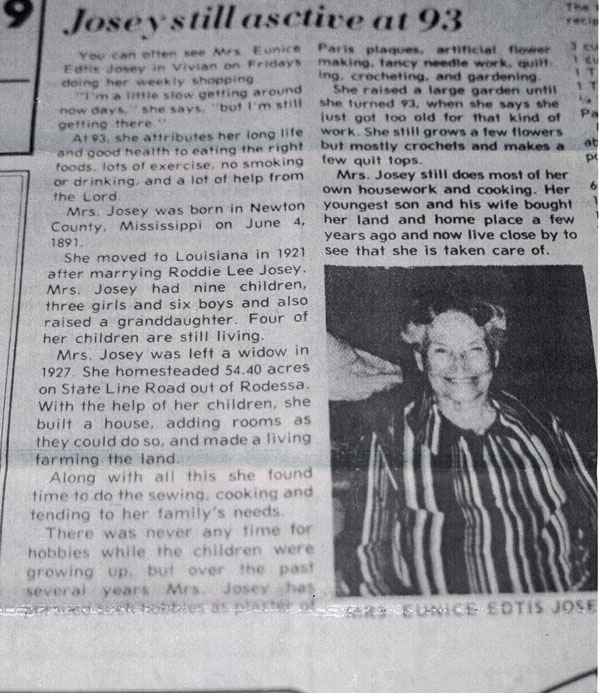 Article from Caddo Citizen, Vivian, LA Newspaper - March 13, 1985
Josey Still Active at 93
"You can often see Mrs. Eunice Edtis Josey in Vivian on Fridays doing her weekly shopping.
"I'm a little slow getting around now days, she says, but I'm still getting there.
At 93, she attributes her long life and good health to eating the right foods, lots of exercise, no smoking or drinking and a lot of help from the Lord.
Mrs. Josey was born in Newton County, Mississippi on June 4, 1891.
She moved to Louisiana in 1921 afer marrying Roddie Lee Josey. Mrs. Josey had nine children, three girls and six boys and also raised a granddaughter. Four of her children are still living.
Mrs. Josey was left a widow in 1927. She homesteaded 54.40 acres on State Line Road out of Rodessa. With the help of her children, she built a house, adding rooms as they could do so, and made a living farming the land.
Along with all this, she found time to do the sewing, cooking and tending to her family's needs. there was never any time for hobbies while the children were growing up, but over the past several years Mrs.. Josey has pursued such hobbies as plaster of Paris plaques, artificial flower making, fancy needle work, quilting, crocheting, and gardening.
She raised a large garden until she turned 93, when she says she just got too old for that kind of work. She still grows a few flowers but mostly but mostly crochets and makes a few quilt tops.
Mrs. Josey still does most of her own housework and cooking. Her youngest son and his wife bought her land and home place a few years ago and now live close by to see that she is taken care of."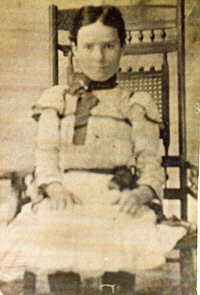 1903 - Eunice Edtis Pulliam
Age 12
Pemoke, Mississippi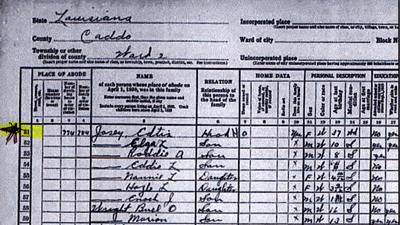 1930 Caddo Parish Census Record
Roddie's 2nd Wife, Eunice Edtis was left as head of household
with eight children after Roddie Lee Josey's death in 1927
Roddie Lee died of liver cancer according to Enoch, but I heard from other family members that he had an ulcer the size of a dinner plate, or some kind of growth. Roddie Lee Josey died September 8, 1927 and is buried in the Josey Family Plot-County Line Road 4566, Bivins,Cass Co.,Texas/LA line.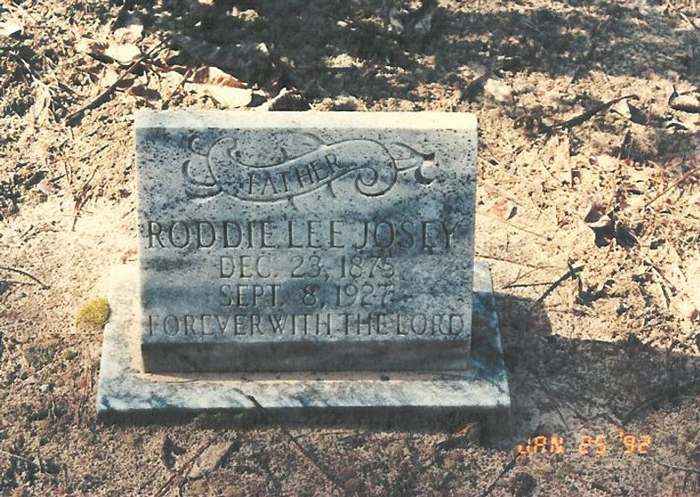 Roddie Lee Josey
December 23, 1875
September 08, 1927
Josey Cemetery
Bivins, TX
These are the 12 Josey generations that we have traced. I have completely researched the four Josey generations from Roddie's descendants to 2005, making a total of 16 generations fully traced.
I have not listed the living on here, other than mentioning Enoch and Hazel below.

Again, Bud and Marion Josey deserve ALL of the credit for all of the Josey information that I have obtained from
Robert Josey (1565) to John Thomas Josey (1849.)
Without Bud and Marion Josey, this would have been a very short Josey page.
I had no exact divorce date for Roddie and Mattie Josey, and Bud just helped me with that date too.
They helped me put together the longest family history we have of the 20 surnames we are researching.
Bud and Marion Josey are absolute jewels!!
This finishes the Josey line, because we have nothing to add on John Thomas Josey, as we have noted all that we know about him above. We hope you have enjoyed the Josey pages,
and do come back often, as this is ongoing research.