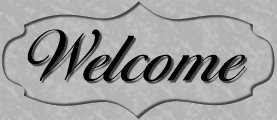 OUR MYSTERY RELATIVES COLUMN


These are relatives, members of many of our family trees,
that we are unable to locate.
WHERE IN THE WORLD ARE THEY?


They are truly "Gone With The Wind."
Any clues appreciated - Just send an


[email protected]

JACKIE'S LOST LAMBS (ALL ALLIED NAMES)



BARLOW, Winnie
Winnie Barlow, born 05/13/1892, married Arthur J. Kern. We have no further information on Winnie. Below is a picture of Winnie standing on the porch (left) with her mother, Lucy Carter Josey Barlow, sitting in the rocking chair. Picture must have been taken sometime before 1924 when Lucy died. We assume this picture was taken in the Vivian, LA area where all of these families lived. The last that was heard of Winnie Barlow Kern (and we are not even sure of that spelling/name), they had re-settled in/near Baton Rouge, LA. Picture courtesy of Sarah Virginia Barlow.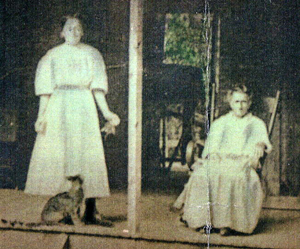 BARLOW, Headstone in Mooringsport, LA. I feel certain that there is some kin to our Richard Barlow kin. Does anyone know these Barlows?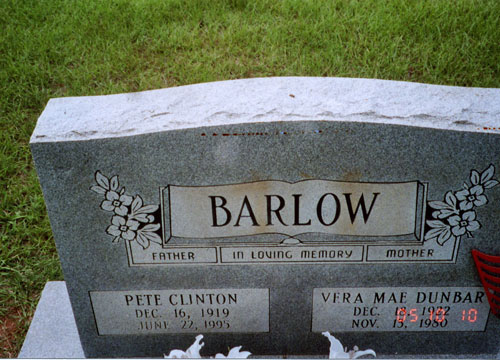 BARLOW, Mrs.
Photo found in Vivian, LA library photo albums - 10-11-05. I suspect that this is Winnie Barlow (second from the left on back row.) The same person above on the porch.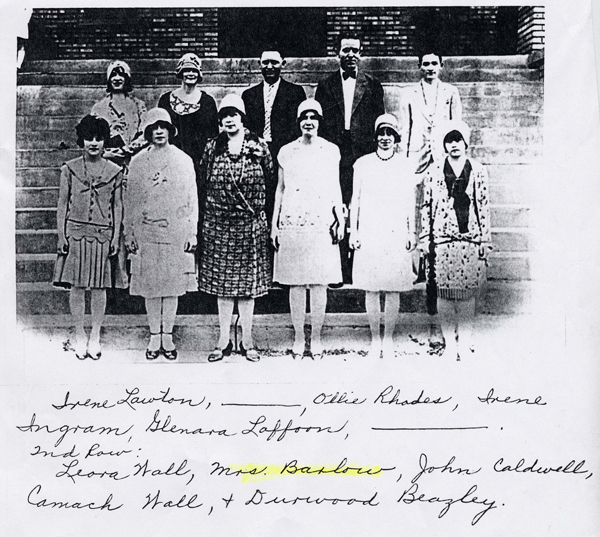 BARLOW, Naomi
Photo found in Vivian, LA library photo albums - 10-11-05. I wonder if this is one of our relatives also? Anyone know this name?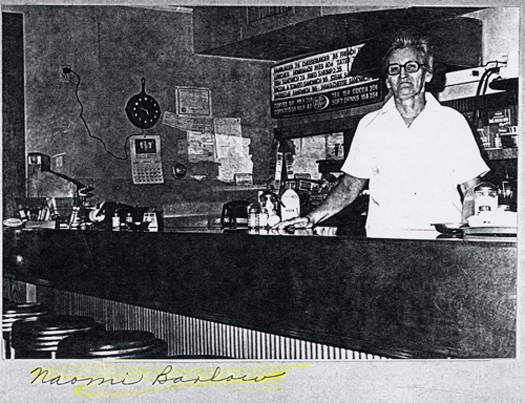 BLUNT, *Per The History of Doddridge, Jared Blunt married an Indian girl, the daughter of a chief. They had three children:

(1) Wesley John, (I have always found as John Wesley Blunt - my g-great-granddad)
(2) Nelson, and
(3) Peggy.

**Wesley John (?), Sr. had two sons, and then he was killed in a Civil War battle in TN.*
One of these two sons was named John Wesley, and he is the one who came to Doddridge from GA, probably a short time after the civil War.

On January 19, 1879, John Wesley Blunt and Lelia Arkansas Davis were married.
Lelia was the daughter of Jared and Rhonea Martha Philyaw Davis, both originally from Alabama.
*I have looked and looked for 25 years and have been unable to find where the Indian comes into play in this family. This history book says it is on the Blunt/Davis side, by saying that a Jared Blunt married an Indian. We wonder if the historian had the names mixed up, because the Jared that we have is Jared Davis (not Blunt) and he was married to Rhonea/Phonea Martha Philyaw, who was supposed to have been from South Carolina and:
1/2 FRENCH AND 1/2 CHEROKEE
JOHN WESLEY BLOUNT/BLUNT
Click here to see a 1919 marriage license for
John Blount/Blunt and Jennie Wingfield in
Bowie County, TX.
As you can see, the name is spelled two different ways on the license itself - Blount/Blunt
This is a mystery, because our Blount/Blunt families lived in that area at that time. We assume this is one of our three John Blount/Blunts, but which one??
Click here to see the front of the license

BLUNT, This picture is one that I found in the Vivian, LA library in photo albums that the older citizens of Vivian had donated. It only says "Mr. Blunt" and I can't help but wonder if he may be our John Wesley Blunt. Anyone have any ideas?



Click on the photo to enlarge.

DAVIS/PHILYAW, From Oct. 21, 1999: Lynn Mayes
Another piece of information I'm not sure about is the 1850 census. I had easily located "Jared D. Davis" and family in the 1860 census, but finding them earlier was difficult. Finally I found a listing for "Janet Davis" (male) and family in Caddo Parish, LA and I thought this had to be Jared. Some of the census facts fit, but others don't. Does anyone know where Jared and family are located in the 1850 census? The following is the info listed for "Janet Davis" in 1850 and the Davis family living beside them, and the only Philyaw (Phillshaw) family in the county. Does anyone else think this is/or is not Jared?:

1850 Albany, Caddo Parish, Louisiana (date unreadable, maybe Nov. 13th)
page 365/729
#153 Janet Davis age 33, male, Laborer, born GA. (Jared?)
Martha Davis age 25, fem., born GA. (age is older than Martha would be)
John B. Davis age 3, male, born GA. (son not mentioned in anyone elses records)
Adaline Davis age 3/12, fem., born LA. (name and age correct)
#154 John C. Davis age 36, male, Laborer, born GA. (possible brother of Jared?)
Adaline Davis age 25, fem., born GA.
Melissa Davis age 8, fem., born AL.
Kitty A. Davis age 6, fem., born AL.
Inoch Davis age 3, male, born AL.

Page 361
# 98 Thomas Phillshaw age 31, male, Wheelright, born SC. (Thomas Leroy Philyaw)
Sarah Phillshaw age 21, fem., born AL. (Sarah Ann Attaway)
Leroy Phillshaw age 3, male, born AL.
Sarah M. Phillshaw age 2, fem., born AL.
Easter Phillshaw age 74, fem., born SC. (probably mother of Thomas)
Could these Philyaw's be Martha Philyaw Davis's family? Would like to hear everyones interpretations of this census info. Thanks.
COLLINS, Charles W. Headstone found in Mooringsport, LA - Just wonder if he may be any kin to our Collins shown on this web site.

HELFRICH

, Karl

02-06-2010

Subject: Check out Ancestry.com - Bavaria, Germany, WWI Personnel Rosters, 1914-1918

Click here: Ancestry.com - Bavaria, Germany, WWI Personnel Rosters, 1914-1918

Jackie,

You sent me this from Ancestry. You couldn't open it so I then sent it to you. This is a KARL Helfrich. His birth date is Jan 20, 1879 born in Roadalban, Pirnassus, Bayern [I didn't spell any of those right but you get the idea J]. I think the father is Jacob H. deceased and Mother Maria Mamasmum [something like that—too many mm uu shapes.] Not our Karl in particular the birthday is off. We have a birth date for Carl and the year is 1879. But this does give the parents. Sandra




Original picture is stored behind Lorenz Helfrich, Sr.'s name in my Family Tree Maker for future use.





JOSEY, Ninnie Lillian Josey,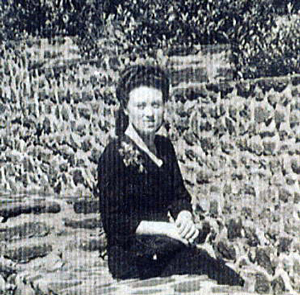 born May 20, 1925 in Caddo Parish, LA. She has just disappeared and no one can find her.

Ninnie was a child of my granddad (Roddie Lee Josey) and his second wife, Eunice Puliam/Kitchens/Wright/Josey/Wright.

Ninnie was narried four times that we know of, and had a son, Paul Gowins, and a daughter, Eunice (Elsie) Patrick. Elsie desperately looked for her mother for many years.
I had so hoped to have an answer for her on this web page, as to whether Ninnie is living or deceased. But, Elsie passed away March 12, 2005 before we found an answer on her mother.

JOSEY, John Thomas Josey, born about 1849 in Kershaw County, SC. He was the Son of Elijah and Chrisa Josey. John Thomas was my great granddad, Father of Roddie Lee Josey who was my granddad.
Here is what we have on John Thomas Josey:
12-4-2001 Ancestry.Com LA Census, 1810-90 Records shows:
Year Surname Given Name (s) County State Page Township or Other Info Record Type Database ID#
1870 JOSEY THOMAS Caddo par LA 380 Shreveport 2 W. Federal Population Schedule LA 1870 Federal Census Index LA010118891. We have no idea where and when he died nor where he is buried.

McCoy
We took this picture on a hurry up trip and did not write down the name of the cemetery. Does anyone know which Uriah McCoy this is - born in 1824 and died in 1889?
Also, does anyone know what cemetery it is and where it is located? Thanks for any help. Click on the picture to enlarge.


SIMS, Two headstones are in the Sims and Collins Plot at Denison Cemetery, in Idabel, OK that we are unable to identify. If anyone can help, we would appreciate it.


Williams, Samuel T.
1884 - 1934
Click to enlarge
A complete mystery as to who he is

Waters, Infant
Born - Died 1907
Click to enlarge
A complete mystery as to who this is

SIMS, Juanita Sims Festervan/Lyles, born about 1929 in the Caddo Parish, LA area. We have been completely unable to find her or her descendants. She was a daughter of my granddad (my mother's dad) and his fourth wife. Their names were James Bradley Sims, Jr. and Vera Murphy Sims Bross. This is the information that we have on Juanita:

1-28-99 Per Toby, Juanita had a possibly adopted son with Van and they were living in south LA.
She might be listed under the names of Lyle or Festervaan

5-25-99 Per Sharon, Juanita's first husband was Rex and second husband was Van and the adopted son was Ramer Lyles

5-15-2000 Per Virgil Sims, I looked at my dbase and I think James Bradley Sims Jr. and Vera Mae Murphy were married in Ouachita Co AR. Vera was born in Sandyland, that is in Ouachita Co. Gladys was born in Cullendale and that is in
Ouachita Co. Juanita was born in Sandyland. Gladys married 1st a Bayless and 2nd a Tolbert. Juanita married 1st a Green and 2nd Festervand.

CHUCK'S
LOST LAMBS (ALL ALLIED NAMES)



DAVIS, This picture was in my mother's photo albums, and I have no idea who mother's aunt and uncle Bob Davis were. I do know that my ggg-grandad, Samuel McCoy, married an Elizabeth Davis (born 1785) on August 12, 1801-02 in Tazewell County, VA. Having not reached the 1785 period in my research on the Davis line, I have no information on that line. Does anyone have a connection?


GUENTHER,

Bobby Guenther is the sailor in this picture and we are trying to find him. He is with his mother and dad, Fred and Helen Helfrich Guenther, in PA. Bobby had two brothers, Roy and Donald, and a sister, Lois Guenther. We are interested in finding them, because they are the children of Herman Andrew Helfrich's sister, Helen Helfrich Guenther. Click on picture at right to enlarge. We just found this family in November of 2004 and Bobby is deceased. How great to discover the rest of these leaves on the tree.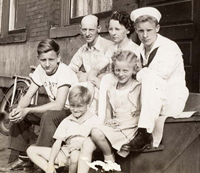 HUBBLE, These two pictures were in our McCoy-Barnett-Davis-Hubble, etc. photos and since Mary Elizabeth McCoy Helfrich's mother was Nannie Hubble McCoy, we are trying to identify these Hubbles, since that was all that was written on the bottom of the pictures.

McCOY, This is a picture found again in my mother's photo album. She has appeared in more than a few photos of our McCoy family, but there is no name on any of them. Might anyone know who she was. The photos were taken at the old home place in Tazewell, VA.

McCOY, Mrs. D. B. McCoy - picture we found in my mother's photo albums. She may be the wife of Donnie McCoy, who was a brother of my mother's dad, Charles Goble McCoy. Can anyone confirm this?

SWARTZ, Anna - Picture has written in Mary E. McCoy Helfrich's handwriting on the left side - "Taken in 1963 - Anna Swartz" and on the top she has written "8-3-1973." We have only one Swartz in our family tree, and that is Joseph and Anna Hubble Swartz. She was born September 20, 1899 and died November 20, 1980. This family was all from VA. Does anyone know anything at all about this mystery relative? I found an Anna Swartz, age 14, in the 1930 Allegheny, Pittsburgh, PA area. Since that is where our Helfrichs are from, do not know if that is a connection or not.