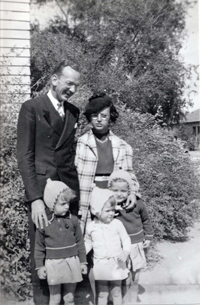 Bradley "Berton" Ray was another of Cleo Sims Josey's first cousins that she talked about often. Berton's mother was Grace Collins Sims Ray, sister of James Bradley Sims, Jr., my mother's dad. Grace married Walter Lee Ray, and their children were Swann, Walter (Pat), Berton, James, Billy and Ruth Ray.

Three of Berton's daughters, Joyce Ann Ray Aldridge, Patsy Ruth Ray Wittke, and Barbara Beatrice Ray Fenstermacher, were kind enough to share the following story with us about their dad. To the left is a picture of Berton, Lillian, and their three daughters, Joyce, Patsy, and Barbara. Hope you all enjoy the story they shared.
Jackie




Bradley Berton Ray - November 30, 1906 - February 09, 1964

Bradley Berton Ray (he preferred Berton) went to the Oklahoma Military Academy and he led the band for his college and academy. When John Phillip Sousa came to Berton's school, he said he always picked the best student to play in his band, and Berton was picked at his school for that honor. John Phillip Sousa told Berton he should become a professional.

Berton did just that and played with dance bands and at marathon dances. Per Joyce Ray Aldridge, Bradley Berton Ray (he changed his name to Berton Bradley) played in Pete Collins' band in Chicago, playing the saxophone and clarinet. Pete Collins was on "This Is Your Life" some years ago; Berton saw him on the show, contacted Pete and they got back together. Berton took one of the Dorsey brother's place in the band, and Bob Crosby replaced him.

Just before WW II, Berton was told he had T.B.,. and only had six weeks to six months to live. He was a Lt. in the reserve and he volunteered to go on a death mission, but they could not take anyone who was ill.

He was in a T. B. sanitorium for 12 years and while there he tutored himself to become a lab technician at Maryland State Tuberculosis Sanitorium. When he got out, he went to work for Bethlehem Steel and was very strong in the union. Berton also was a bookkeeper.

In the ensuing years, Berton was a Moose Lodge member. When he died, numbers of people came forward to tell about how Berton had helped so many people over the years, but he wanted it to be kept anonymous.

Little side note: Nellie Dixie Sims Hardy (Berton's aunt - Jackie's grandaunt) dipped snuff and discretely expectorated in a polished coffee can. (My grandmother Mattie Blunt Josey did the same thing - Jackie.)

When Berton was a boy, he had long red curls, and his mother would not have his hair cut. When Berton's mother went to see her brother on the train, we think in Arkansas, Berton's uncle was horrified at the curls and he took Berton out to the shed and proceeded to cut. About half way through, Berton's mother caught him and would not let him continue cutting Berton's hair. Berton had to go home on the train with half of his hair cut and half not cut. So, he told his children later in life about the time when he was a girl.

Berton and his wife, Lillian, are buried side by side In Baltimore, MD.

10-30-05 - Before this could be published, we lost Joyce, who was so instrumental in so much of the information that I have on the Ray side of the Sims families. I will miss Joyce and our thoughts and prayers go out to her family.

Jackie


I thought this was Joyce, because she had sent the photo to me, but Barbara says it is not.
Does anyone know who this is on the Ray side?