Pittsburgh has a lot of good memories for me too, but it was many years - from 1950 until 1990 - before I went back, for my 40th class reunion. My, how Pittsburgh has changed and grown over the years. And, one of our classmates became a mayor of Pittsburgh later. This is me in front of the school in 1990 (click to enlarge) at my first class reunion, which was the 40th one. The story about that is below.

I had never been to a class reunion, prior to 1990. Jackie sneaked around and found out when the Taylor Allderdice 40th reunion was to be held in 1990. She just told me to ask for the weekend off from work, and that was all that I was told. I did not know where I was going until I got there. One of Jackie's big surprises. She used a great ruse to get me there, telling me we were going on a surprise trip way up North, but just stopping off in Pittsburgh, because she wanted to see where I grew up.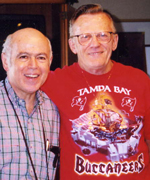 She even got a sightseeing tour guide to take us on a tour of Pittsburgh. Can you believe that she actually had tracked down our school class president, Sam, (see the picture of him and me on the left here) and had him play the role of the tour guide? I did not recognize him after 40 years, and they used a bogus name for him. Then, Jackie said she would like to see the school that I went to, and Sam pulled off at that intersection. We just went up to take pictures, with my never knowing anything. People were coming in and out of the school, so we went in to take some more pictures, and went in to check out the gymnasium, only to see 1950 CLASS REUNION BANNERS!!
I confess to being choked up and having to wipe away a couple of tears at that point. The surprise of my life. Jackie could not top that one. What a thrill seeing my classmates after 40 years. And, do they ever put on a production, with a program that is like a Broadway play for each and every reunion. Needless to say, we attended the 45th and 50th reunions also.
Another memorable time in my life was helping two of our beautiful granddaughters in Alaska put up a play station. What fun we had with it and here are the photos to prove it. Gosh, it seems as if it all happened yesterday.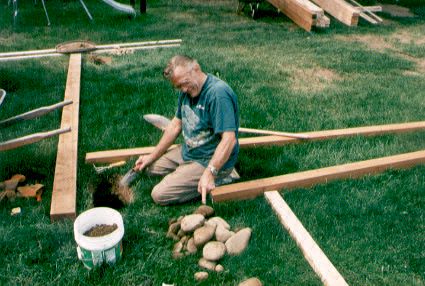 1994 - Papa Chuck getting everything lined up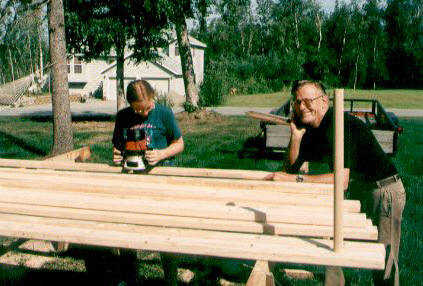 1994 - Break time for Papa Chuck - let the younger help do the work
We have done many other exciting things over the past 50 years; several cruises, rafted down the Colorado Rapids and other rivers, toured New York and Niagara Falls, and Canada, inhaled the beauty of the magnificent cherry blossom trees, marveled at the sites in Washington, DC, took a nostalgic trip back to Hawaii to visit with Bill and Yumi, almost 40 years after we left our duty station there, toured through Branson, MO, traveled several times to see the fall colors, toured the entire state of Tennessee, attended many family reunions, toured Alaska five times, panned for gold, rafted down their icy cold river, flown up to the base of Mt. McKinley and landed on the Ruth Glacier (7,000 ft. above sea level) and built a snowman; absolutely breathtaking beauty. Believe me, Alaska is God's Country.
Among all of those many memories, Jackie and I share the many, many times we have visited our ancestors in more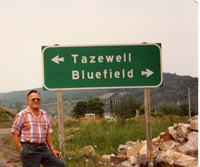 cemeteries than we can count, and took pictures of their headstones and/or documented where they were buried, until we can get headstones for them if they did not have one. The picture to the right is one of the times (1995) when we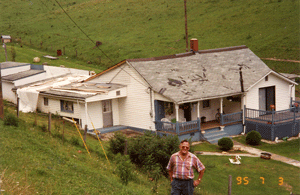 went back to my roots and did some more researching in Tazewell, VA. And, the picture to the left is the home my mother grew up in, and where we spent our summers as children. It was fun stomping back through the area where I grew up. Life has been full for us.
When I was born, Herbert C. Hoover was the President. Amelia Earhart became the first woman to fly solo across the Atlantic Ocean. The Tomb of the Unknown Soldier was dedicated in Arlington National Cemetery. Depression low point of Dow Jones Industrial Average: 41.22, unemployment hit 24%. Babe Ruth pointed to "the spot" and hit a home run in the World Series. Wages were down 60% from 1929. Bread was $0.07 compared to $1.14 today, a new home average price was $3,050, compared to today's $173,800. The population was 124.9 million compared to today's 294.2 million. Average income was $1,268 compared to today of $42,700, and gas was $0.18 compared to today's price of $3.00. It all seems so long ago. My, my, how things have changed, but then every generation can say the same thing.
I have a wonderful family, my wife, Jackie, of 50 plus years, and four sons, Billy Charles, and his wife, Yumi, and their daughter, Amy, of Bealeton, Virginia; Lester Dean, and his wife, Janet, and their two daughters, Rebeka and Heather, of Palmer, Alaska; Ronald James, and his wife, Elise, and their daughter, Lauren, and son, Michael, of Tampa, Florida; Paul Wayne and his wife, Ellen, and their son, Daniel, and daughter, Julia, of Wesley Chapel, Florida; and one brother, Herman Larry (Sonny) Helfrich, of Front Royal, Virginia, one niece and four nephews..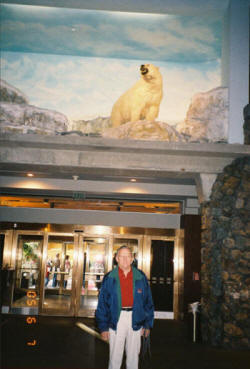 06-2005 - On our trip to Seven Glaciers, Alaska

June 10, 2005 - Chuck and Sonny - VA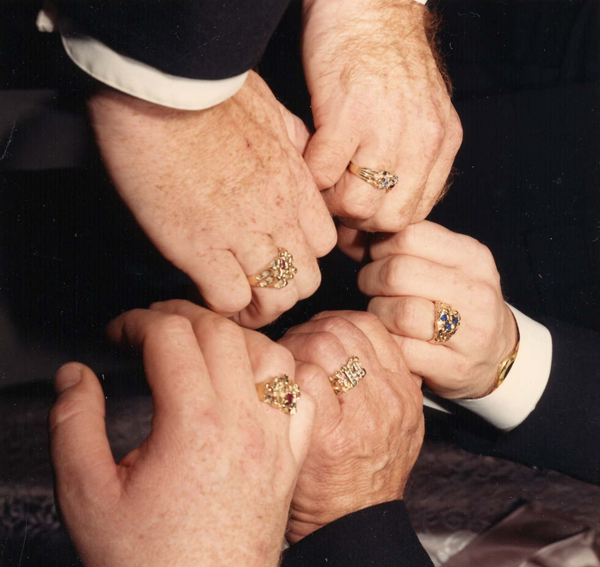 Jackie had a birthstone gold nugget ring made for me and all four sons.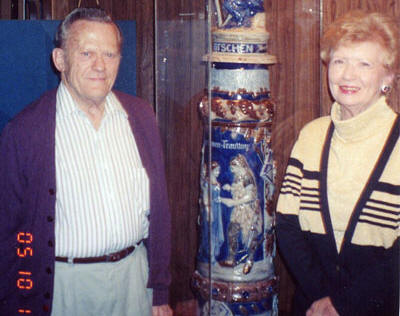 Celebrating our 53rd anniversary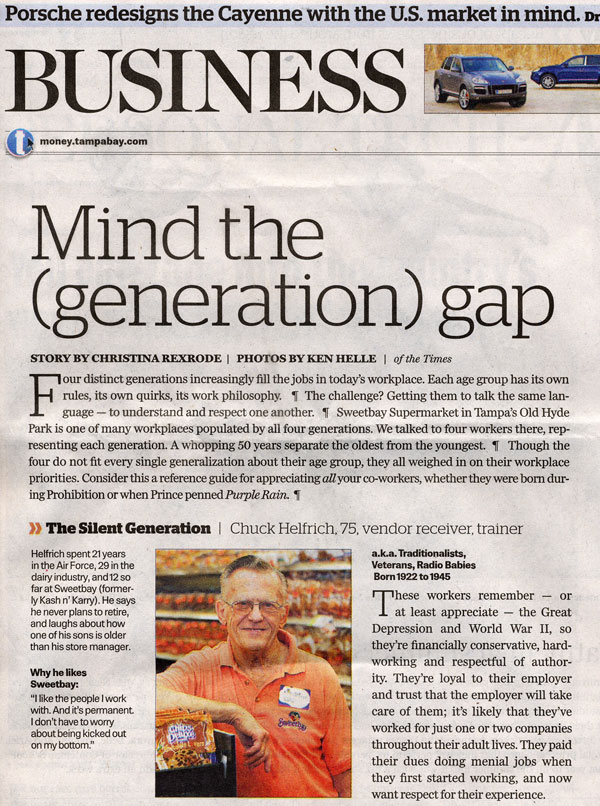 August 2007 - Article in St. Petersburg Times on Chuck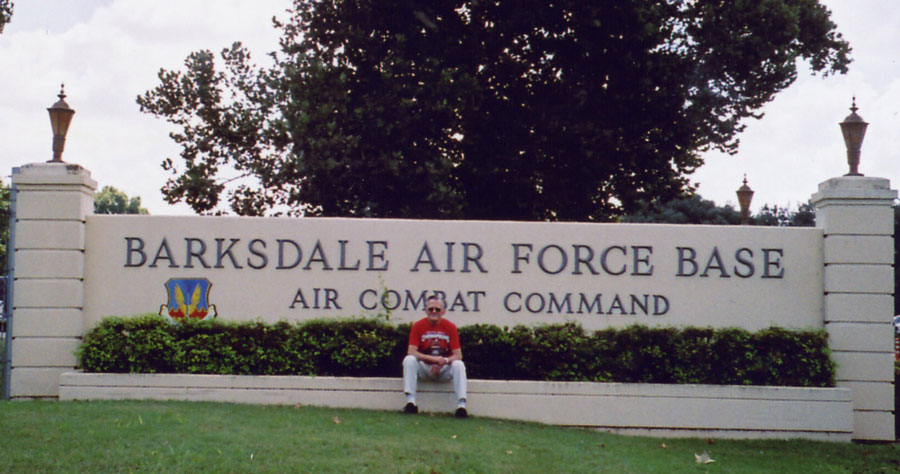 October 7, 2007 - Chuck back at his first military base after boot camp.
Jackie thought this might be a nice biography/pictorial treasure trove for our grandchildren, so I am humoring her and giving my consent to do this page any way she wants to, with my blessing. We do have a lot to be thankful for and we definitely feel blessed.
Thank you for stopping by and I hope you will come back often, as this site is being worked on daily.


Click on "Back" for
Main Index of Names

Click on "Flag" for
Main Page


Click on "Next" for
Chuck's Dad