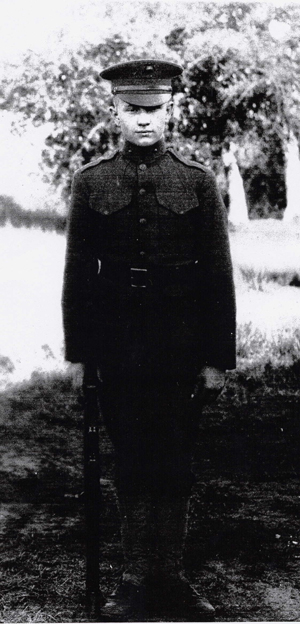 HERMAN ANDREW HELFRICH

(Chuck Helfrich's Dad)

Photo Courtesy of Sandra Brandon
USS CLEVELAND (LPD-7) was commissioned April 21, 1967 at Norfolk, Virginia. CLEVELAND is the third ship to be named after the city of Cleveland, Ohio. The first was the Protected Cruiser (C-19) from 1903-1929 and the second a light Cruiser (CL-55) from 1942-1947.
Herman Andrew Helfrich enlisted in the U.S. Marines on November 20, 1923 at Parris Island, South Carolina at the age of 15 years and 11 months.
His record shows that he served at sea service on the USS Cleveland from October 1923 to August 11, 1925. When they discovered that he was under age, he was discharged August 15, 1925, having served 21 months in the U. S. Marine Corps, and still not 18 years old yet.
Sandra said that the name "Herman" was written on the front of the picture and it was her mother's handwriting, but I just wanted to make sure this was Chuck's dad "Herman Andrew Helfrich."
So, I contacted Marine Sgt. Grit's Texas location and a very nice lance corporal did some research for me and these following excerpts were his response, after I sent this picture to him for identifying the uniform:
"WOW, OUTSTANDING SHOT FROM OUR HISTORY.
I WILL RESEARCH THIS UNIFORM AND REPORT BACK AS SOON AS I HAVE SOLID INFORMATION ABOUT IT."
and then this:
Dear Ma'am,
Please be advised I believe that your dates are very close it seems to be a uniform from around 1915-1925. This picture is an outstanding example of our rich family history. This appears to be a modified U.S. Army uniform of the period. Due to marine and naval uniform shortages the Corps bought army blouses and trousers, removed the buttons and insignia and used ours. The weapon this marine is holding (appears to be a 03 Springfield) dates the picture some time after 1903. I hope that this information is helpful."
SEMPER FIDELIS
LCPL COREY N. FILSON
BATTERY F 2/14
SGT GRIT, INC
1-866-776-2607
Fax 1-866-776-2610
01-18-08 We just found this at Ancestry.com with Herman A. Helfrich near the end of the first page listed as a trumpeter. We are checking to see if it was a true trumpeter or a rank.