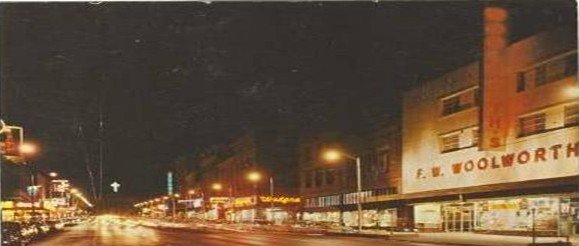 Jim found this picture on the Internet with the Walgreen's where I worked during high school.
Looking at the second street light on the right, you will see Walgreen's.
Thanks, Jim
Here is my high school:
Fair Park High School
1949-1950-1951-1952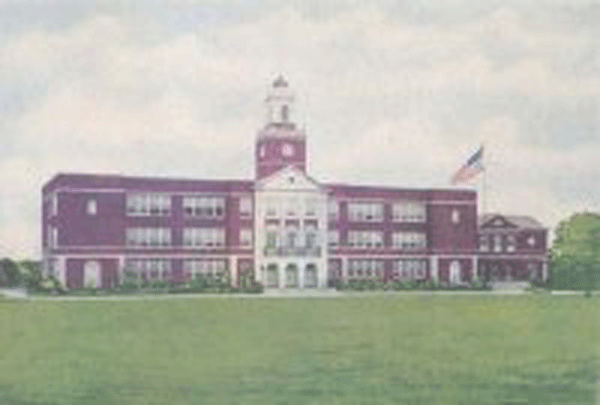 Fair Park High School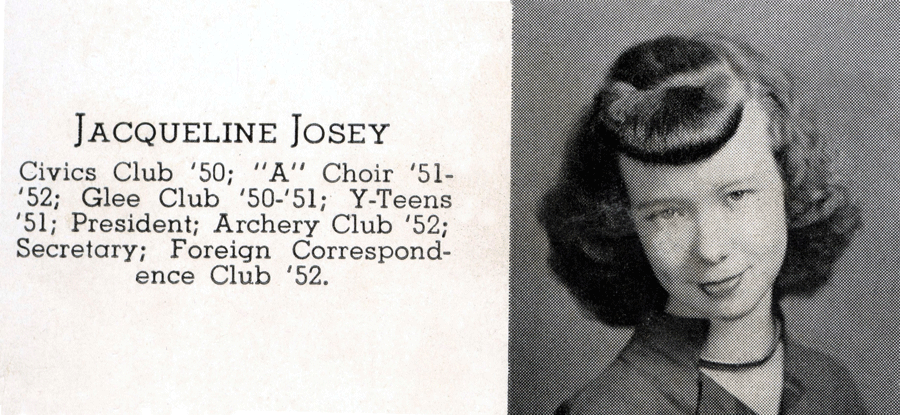 1952 Fair Park High Sequoyah Yearbook
Just a couple of pictures below, so our grandchildren can say:
"oh, my, is that Grammy?"
Good for a laugh, anyhow!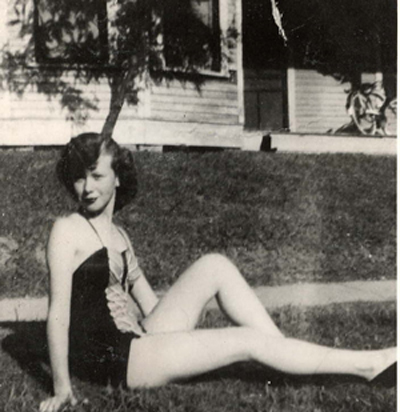 1950 - This was taken when
we lived on Madison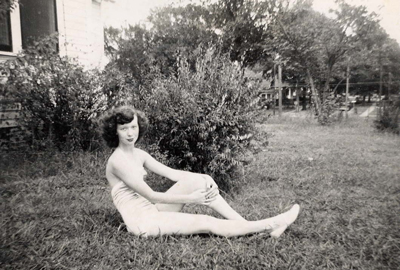 1951 - This was taken when
we lived on Hoadley

We had a "cute boy" who worked at Walgreen's with us that we were all madly in love with. James Stovall had to be one of the most adorable, kindest, sweetest, well mannered young men that any of us would ever be so fortunate enough to meet. He and his family had been taken under Margie's wings too. At the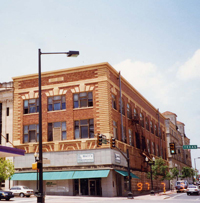 age of 16, James broke all of our hearts by joining the U. S. Marines. Here is a photo of the Walgreen's' building that I took in the 90's, and even though it is now another business, it is still the same building that we all worked in, and it brought back many memories.
However, James came back to Walgreen's in that U. S. Marine uniform, all grown up, and we all fell madly in love all over again. As you can see from the picture of James to the right here, he was a sweetie pie with the most infectious smile that melted the hearts of all of the girls at Walgreen's. We lost track of James and then found him many years later right here in Florida with his lovely wife, Sallie.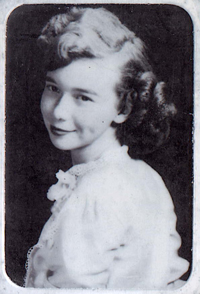 I found out all those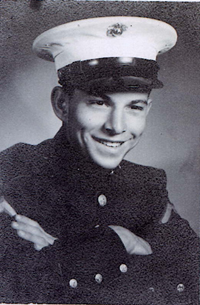 many years later that James said he had carried my picture (the one at the very top of this page) and the one to the left in his wallet all of the time he was in Korea. I need to call him and ask if he carried all the other girl's pictures in that wallet who worked at Walgreen's.
James talked with me one night on the phone in 2003 and told me some of the stories of his time in Korea as I was furiously typing them into my computer. He said it was as vivid as if it had happened yesterday. Sallie said he had not talked that much about the war until that night on the phone with me.
James was in Korea only 21 days, but 20 of those days were in battle on the Chosin Reservoir, day and night battles, and they were all trapped during the fight. One time, James was lying behind a jeep tire and he could see the bullets coming toward him hitting the tire. The St. Pete Times, July 20, 2003, stated, North Korea had 260,000 troops, and China had 2,300,000 and combat deaths for North Korea were 214,000. For China, the combat deaths was 401,000. The total combat deaths for the allied forces was 98,000, out of 932,000 troops. James was awarded the Purple Heart. The allied troops were completely surrounded and during the daylight, the planes protected the troops, but at night the troops were on their own and had to fight. Every night they were attacked. James could hear the Chinese talking along the dark roads. The machine guns were so close, the troops could almost reach out and touch the Chinese. They used everything to shoot at them, and every night, the Chinese would overrun their camp and the fighting went on all night, every night.
James said he kept a can of beans next to his body because everything was so frozen and he would chip out one bean at a time with his bayonet. At different times, James passed out some candy charms that he had scrounged to many soldiers around him. One day, he offered a charm to a soldier, and it just happened to be one of his former neighbors from Shreveport, LA.
James was wounded by shrapnel and when he was in the evacuation truck, after he was hit, there were three other soldiers in the truck with him, and they all died before they got to the tent city. The Chinese were fighting around the tent and the bullets were hitting the tent. The next day, James was to be flown out of combat. There was room for everyone on the transport plane, except James and that was when a piper cub pilot came over and said he would take him out. The enemy was shooting at the piper cub, and they were hit several times, with bullets from 30 caliber rifles.
He was transferred to an English hospital ship for three days, and then transferred to an American ship (U. S. S. General Mitchell-the one that brought James to Korea) which had been transformed from a troop carrier to a hospital ship in that length of time. He was then taken to Japan and hospitalized for about a month and then came back to the states. He still has some of the shrapnel in him to this date. An entire company from Shreveport was sent to Korea and about 1/3 of them came home. The rest of them were killed.
James remembers when Gabby Hayes, Gene Autry's sidekick, came into Walgreen's a few times when he was appearing in Shreveport, and James served him. James, Sallie, Chuck and I have been able to visit a few times over the years and keep up with each other via e-mail. Sallie just mailed the picture of James and the two of me that he kept in his wallet so I could put them on the web page. Friendships like Irv and James are priceless.
07-12-08....Sadly, I just received the news that we lost James April 14, 2008. His obituary states: "Dunnellon, FL - James F. Stovall passed away Monday, April 14, 2008. He was a member of the First Baptist Church of Lake Rousseau. He owned and operated S&S TV for more than 30 years. Mr. Stovall was born in Shreveport, LA. He was in the United States Marine Corps. He served in the Korean conflict and was a Purple Heart recipient. Mr. Stovall is survived by his wife of 55 years, Sallie Land Stovall, of Dunnellon, daughter Debra Broadhurst and her husband, Rusty Broadhurst of Summerfield, FL, three grandchildren and two great-grandchildren. Mr. Stovall's love in life was his family and his second love was fishing. Fero Funeral Home, Beverly Hills, FL"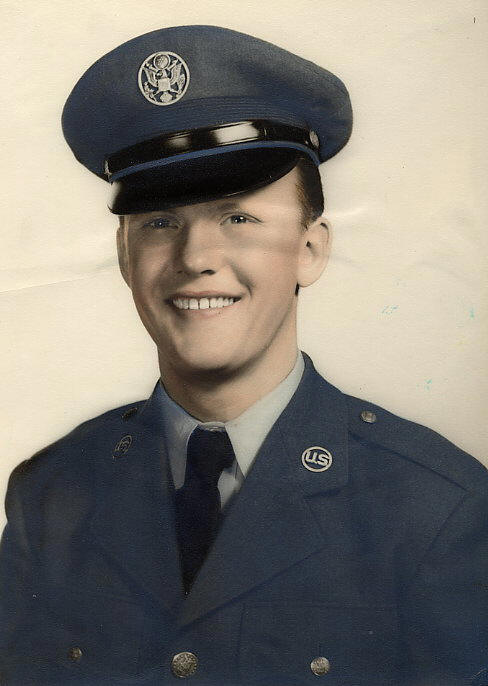 While working at Walgreen's, in April of 1951, I met Chuck,
my future husband, who was stationed at Barksdale AFB. Chuck and one of his buddies came to Walgreen's one night for coffee.
They chatted for a bit with me; and the next night Chuck came back and became a regular customer.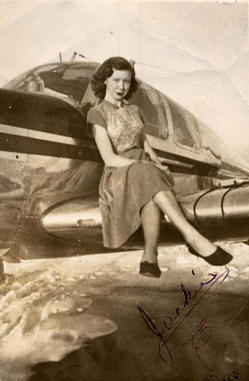 Our first date was on Easter day 1951, and Chuck surprised me with an orchid to wear on our date. The two pictures of me:
(to the right and below)
were taken in 1951 while Chuck and I were dating.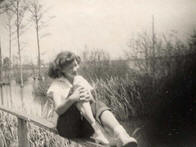 After graduation, I went to work for Southern Bell Telephone and Telegraph Company as an "Information Operator,"
(see picture of the building to the left below that I took in the 1990's - now another business there).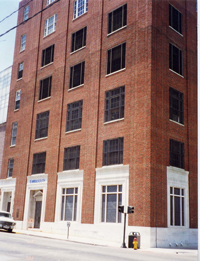 A little side note: Hank Williams was dating one of our co-workers there, Billie, (she was a long distance operator, if I remember correctly.) I just went into Hank Williams' bio and found the following, after it talked about his playing at the Louisiana Hayride in Shreveport: "In the fall of 1952, he met Billie Jean Jones Eshlimar, the 19-year-old daughter of a Louisiana policeman.
By October, they were married."
I was planning to go to Northwestern State University to go into nursing, but in October 1952, I married Chuck. I continued to work at the telephone company until we had our first son, Bill. Then, we left Shreveport and went to Washington, DC. Shortly after that, Chuck was assigned to Germany; and I spent almost five months at home with mother before Bill and I joined Chuck in Germany. What a marvelous tour that was over there. We extended our tour and spent three and one half years there.
Being in the military as a wife for 20 years and traveling all over the world, with each new duty station, I firmly began to believe that each young person should spend at least two years in some branch of the military, between high school and college, and serve in a foreign country. They would forever be thankful for this great country that we live in.
The next 18 years - 1952 to 1970 produced four sons and the opportunity to enjoy many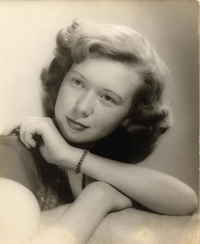 different parts of the world. We were fortunate enough to be stationed at several air force bases - Barksdale AFB in Louisiana, Bolling AFB in Maryland, just outside of Washington, DC, Bitburg AFB in Germany, Whiteman AFB in Missouri, K.I. Sawyer AFB in Michigan, Clark AFB in the Philippines, and finally our favorite assignment of all, Hickam AFB in Hawaii from 1968 to retirement in 1970 at MacDill AFB in Florida.
What a way to end a 20 year military career!!!
We retired (and I use the plural pronoun "we" because I truly felt as if I had been in the military myself for 18 years also.) I belonged to many military organizations; i.e., Air Police Wives' Club, NCO Wives' Club, Cub Scout Den Mother, Base Sunday School Teacher, American Red Cross,
the Women's' Guild at the base chapels, etc.)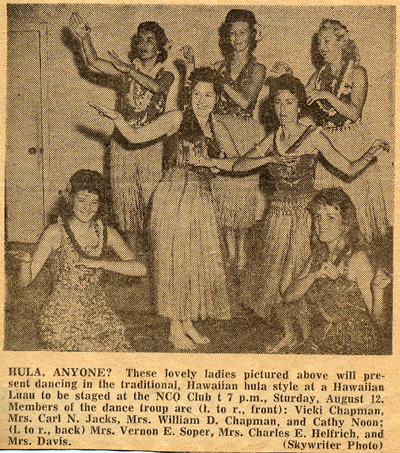 In 1955, while we were stationed in Germany, I actually let one of my best friends talk me into learning the hula. A group of us from the NCO Wives' Club put on our sarongs and grass skirts, with fresh orchid leis flown in from Hawaii, and we put on a hula show at the
Non Commissioned Officers' Club at Bitburg AFB.
There was not even standing room in that club. Julia had actually talked me into leading one of the segments of the show and I found myself out there in front of the other girls, all alone, leading this one dance. I was always so shy that I would blush at the least little thing; and I thought for sure I was going to faint when I got out on the stage and saw how packed the club was. When the show was over, the audience tore the house down, applauding, stomping, whistling, and yelling with their appreciation of our efforts. One of my fondest memories.

As I said, the organizations that we wives were a part of were numerous in those years, as you can see to the left - click on article to enlarge.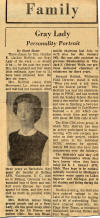 In the Philippines, I was a Volunteer Gray Lady and worked in the base hospital at Clark AFB, with the wounded men coming straight in from the battlefield in Vietnam, many still covered with blood and mud. I drove home many, many nights in tears from what I had witnessed. Click on the two articles to the left to enlarge.
One memory that stands out was when General Westmoreland's wife gave me a basin and told me to go bathe this one officer. I went in with basin and wash cloth in hand and the Colonel asked me "and just what do you think you are going to do with that?" When I told him I was there to bathe him, he let me know quickly that was not going to happen, and he would take care of that matter himself.
I wrote letters for many of those special young men. One in particular really took the starch out of me. His hands were in huge bandages and he asked me if I could write a letter to his mother. He was a mechanic and told his mother that everything was fine. He told me that the doctors told him that he would never have the full use of his hands again. But, he did not want his mother to know that. I have a deep appreciation for nurses who deal with those things all the time. I decided that things do work out for the best, since I sometimes wondered over the years if I had made a mistake by not pursuing the nursing career that I initially thought about. No, I would be in little pieces. Bless those who take up this calling. They are truly "Angels of Mercy." And, that includes my sister, Angie and mother.

Jackie - 1965
At Clark AFB, Chuck was the equivalent to the Chief of Police of Town Patrol, and we attended many local functions. Here is one of Chuck and me sitting at the head table, with a bunch of politicians and I was a bit unnerved to see all of the guards present with tommy gun weapons, and heavy artillery. You can tell by the expression on my face that I was asking "how in the world did I end up here?" Chuck and I are seated at far right of table.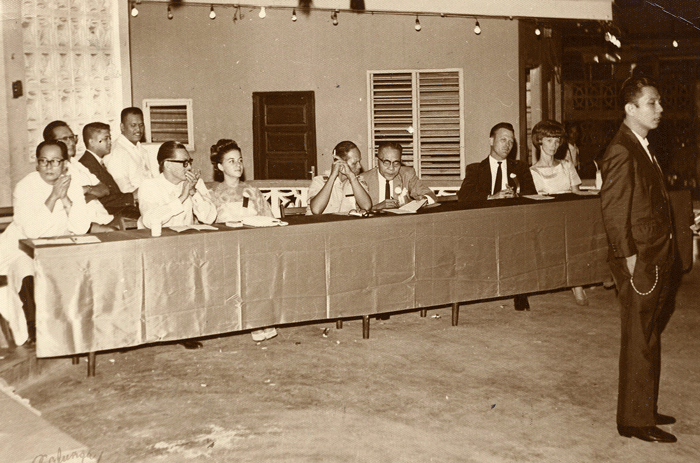 While in Hawaii, I worked at the Pearl Harbor commissary and went to night business classes, studying shorthand and typing. From there, I worked in the Pearl Harbor Chaplain's office during the Vietnam War, for a year and toward the end of the war, the office closed and I went to work in a bank in Honolulu until we retired.
We returned to the mainland in September 1970 to retire in the sunny state of Florida and I worked my way up from a stenographer to executive secretary, then to a hospital Materials Manager. After 18 years of more stress than I cared to pursue further, I went to work as a March of Dimes Walk America Coordinator for three years and then retired. For three years, I enjoyed not getting up each morning to rush off to work. Then I discovered computers and in order to pursue the intense interest that I have had in my genealogy for most of my life, I decided that I would go back to work to get a state of the art computer.
Here is one of my favorite pictures of Paul escorting me down the aisle at Ron and Elise's wedding, September 27, 1986.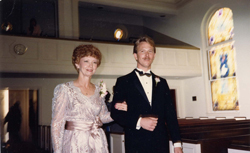 I took a part time position as an assistant to a wonderful Senior Rehabilitation Specialist at the Florida Division of Blind Services. This allowed me the time to travel around the country often and interview many relatives. With my mother-in-law being a direct descendant of the McCoys in the Hatfield/McCoy feud, and a first cousin who my mother grew up with, (Ruth Ray) who married H. L. Hunt, (that was a marvelous interview with her), a 101 year old former slave, and a 103 year old step grandmother, who shared stories with me about her pioneer days out west, and the stories from another relative about the family going to Oklahoma in a covered wagon, trying to track down an Indian great-great-grandmother, who was written about in a Doddridge, AR history book, etc., have all made these trips priceless. The information, documentation, stories, pictures, etc. that I have come away with, once compiled, will make for nothing short of a great legacy that I hope to leave behind for our four sons, daughters-in-law, and seven grandchildren. And, now you know the rest of my life story.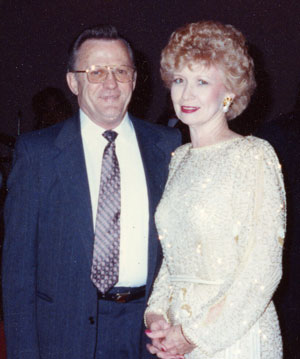 Here is one of my favorite pictures of Chuck and me taken in 1990. Our lives have been full and some of our favorite times have been Christmases. Every other year, we all get together, with Les and his family coming in from Alaska and Bill and his family coming in from Japan and then later from Virginia to join in with our big family reunion. Ron and Paul and their families live in the Tampa area. We always decorated the house, inside and out, and the yard to the hilt. Chuck really enjoyed doing that project each year, and he did one heck of a good job at it too. The decorating took at least a month to complete. People came from miles around, some of them even in busloads. Television stations came out to tape it for TV; (be sure to check out some of the pictures on our Christmas pages from the Main Index Page) radio and TV personalities came by, stretch limos came by, and one of our most infamous sight seeing groups was a motorcycle group of 14 bikers.
During those times, we invited folks to walk up to the windows and see the decorating in the windows and the rest of the inside of the house, viewing it from outside through the Florida room and the big living room picture window. We always had open house on Christmas Eve for our family and friends. One night, we were all eating from a huge smorgasbord that we always had, and Les looked at me and asked "Mom, who is that man over there?" None of us had any idea who he was, but he was enjoying himself with the massive layout of food. He finished and said "thank you very much," and left. To this day, we have no idea who he was, but we all had a laugh about it later.
If you want a good laugh and a peek at some spectacular scenery, here is a true story that Les wrote about his odyssey in 1989 from Alaska to Florida for our family reunion. Be sure to click on Les's Letter link at the bottom of this page or go to Les Helfrich's Christmas Odyssey from the Main Index of Names Page.
Mother always told me that I asked more questions than all of her other children combined, but I am so glad I did, because I have some marvelous stories about our families that I hope to pass down on these pages. Thank goodness, I found out where a lot of our ancestors are buried on my side and Chuck's side, and we have begun the project of putting up headstones for those who did/do not have one. The first ones we did were for mother's dad and our little sister, Wanda. Then, we worked on the headstone for Chuck's paternal grandmother, which was in such disrepair, in Pennsylvania. Next, we want to work on a new stone to replace my dad's current headstone, which is also in disrepair in Mt. Gilead, Vivian, Louisiana. Then, after that, we want to put up a headstone for Lucy Carter Josey Barlow, my great-grandmother on my dad's side.
We also found a small cemetery that had several of Chuck's Hubble great-grandparents, in Tazewell, VA, and the headstones were all knocked down, so we have to work on that. A lovely lady, Ashley Nuckols, in Tazewell, is working on that project at this time, and we appreciate all that she is doing, because it is a very difficult situation. Any time I see a cemetery, no matter where we are, I want to stop to see if I might find some more relatives.
Chuck is still working at Kash N Karry and for the past five years I have been working for a company out of New York where I interview people in every walk of life; mechanics, truck drivers, computer specialists, government officials, doctors, researchers, etc. It is the most interesting job I have ever had.
Some closing points for MY (as these are MY thoughts about life, in general - and not necessarily Chuck's opinions) great-grandchildren to look at one day, and be able to get a better sense of what I was like and stood for, since they did not get to know me, as the grandchildren have.
I have been told more than a few times that I am very opinionated. I plead guilty, as charged. True - I feel very strongly about many things. I have a tremendous sense of justice - have absolutely no patience with injustice. In fact, I said they should put on my headstone "Injustice Did Her In" - but Chuck and I are being buried in a military cemetery, so that will not be allowed. I am a registered Republican, but in my old age, I am leaning more toward the Independent persuasion.
I have felt throughout my life that ALL human beings were born as equals. I have always felt firmly that no human should be enslaved in any manner, shape or form. I felt when I was a teenager in the 1940's that anyone who works for a living should receive equal pay for equal work, regardless of their sex, race, or whatever. I have always felt that anyone who can do a job should be considered for the job, regardless of sex, race, religion, or whatever. I do not think that a job/position/opening/academic allotment, etc. should be dumbed down in order for someone to fill that slot. Meaning, I do not think that anyone should be considered for school, jobs, etc, just because of their sex, race, etc.. Everything should be based on whether one qualifies - period.
I resented it to the utmost in the 1940's, when I was paid 1/2 what the guys were making at a drug store, and we were all doing the same job. I could go on all day on that subject. In this case, the guys were students, as were the girls, and we all had the same expenses. That carries over into other areas of life. Should the man - who lives at home with his parents - get more pay (just because he is a man) than the woman who has lost her husband, and has children to rear? It goes without saying that in the 1970's at a large corporation, four of us who were executive secretaries, had to train men fresh off the street, just out of school, no formal training, etc., who knew nothing about the work, to become purchasing agents. We women knew how to do the work, but we were told point blank: "we don't allow women to be purchasing agents." When we wanted to wear pant suits to work, the men were allowed to vote on whether that would be allowed - and guess what? It was voted down. Of course, that was in the mini skirt era, so go figure. Equal pay for equal work, period. Resolves the problem.
And, I am not happy at all with the direction in which our country is headed. Our politicians do not listen to the people. They are entirely too self-serving. Our country does not go into a war anymore to win it; the politics of Korea, Vietnam and Iraq left entirely too much to be desired. If we are sending our young folks into battle, do not tie their hands with a bunch of political garbage and expect them to win. Why do the politicians not get that?
AND, stop dilly dallying around while our borders are wide open. I call it "fiddling while the country is going under," just as Rome did. Why can't they see the dangers involved? Don't they see the consequences of so many illegals coming into this country? What has happened to good old patriotic attitudes? Why are they sending our jobs overseas, or bringing in people from other countries to take what jobs there are left here? Oh, I forgot, the big corporations need that CHEAP labor. Yes, that is the reason; the almighty dollar is more important than ANYTHING else. Hello, out there, what about the AMERICAN people who were born in this country? Oh, could I go on for hours, days, weeks, the rest of my life on these subjects.
The following e-mail was sent to me in October 2010.
I just had to copy and paste it below since it reflects my sentiments to the maximum:
I Am the Democratic Liberal-Progressive's Worst Nightmare.
I am a White, Conservative, Tax-Paying, Wife of an American Veteran.
I am still working at the age of almost 77.

I believe in God and the freedom of religion, but I don't push it on others.
I drive American-made cars, and I believe in American products and buy them whenever I can.

I believe the money I make belongs to me and not some liberal governmental functionary,
Democratic or Republican, that wants to share it with others who don't work!

I'm in touch with my feelings and I like it that way!
I think owning a gun doesn't make you a killer; it makes you a smart American.
I think being a minority does not make you noble or victimized, and does not entitle you to anything. Get over it!
I believe that if you are selling me a Big Mac or any other item, you should do it in English.
I believe there should be no other language option.
I believe everyone has a right to pray to his or her God when and where they want to.

My heroes are Malcolm Forbes, Bill Gates, John Wayne, Babe Ruth, Roy Rogers, along with dozens of others.

I don't hate the rich. I don't pity the poor.
I know wrestling is fake and I don't waste my time watching or arguing about it.
I've never owned a slave, nor was I a slave. I haven't burned any witches or been persecuted by the Turks, and neither have you!
I believe if you don't like the way things are here, go back to where you came from and change your own country!

This is AMERICA ...We like it the way it is and more so the way it was ...so stop trying to change it to look like Russia or China , or some other socialist country!

If you were born here and don't like it... you are free to move to any Socialist country that will have you. (And take Barack Hussein Obama and his group with you.) Massachusetts started the ball rolling. Keep it going.

I believe it is time to really clean house, starting with the White House, the seat of our biggest problems.
I want to know which church is it, exactly, where the Reverend Jesse Jackson preaches,
where he gets his money, and why he is always part of the problem and not the solution?
Can I get an AMEN on that one?

I also think the cops have the right to pull you over if you're breaking the law, regardless of what color you are, but not just because you happen to ride a bike.

And, no, I don't mind having my face shown on my driver's license. I think it's good.... And I'm proud that 'God' is written on my money..
I think if you are too stupid to know how a ballot works,
I don't want you deciding who should be running the most powerful nation in the world for the next four years.
I dislike those people standing in the intersections trying to sell me stuff or trying to guilt me into making 'donations' to their cause....
Get a job and do your part to support yourself and your family!
I believe that it doesn't take a village to raise a child, it takes two parents....
I believe 'illegal' is illegal no matter what the lawyers think!
I believe the American flag should be the only one allowed in AMERICA !

If this makes me a BAD American, then yes, I'm a BAD American.
We want our country back!
My Country..... I hope this offends all illegal aliens.

Our great, great, great, great grandfathers watched and bled as their friends died in the Revolution & the War of 1812.
Our great, great, great grandfather watched as their friends died in the Mexican American War.
Our great, great grandfathers watched as their friends & brothers died in the Civil War.
Our great grandfathers watched as their friends died in the Spanish-American War.
Our grandfathers watched as their friends died in WW I.
Our fathers watched as their friends died in WW II.

We watched as our friends died in Korea, Vietnam, Panama & Desert Storm.
We have all watched & bled as friends died in Afghanistan and Iraq .
None of them died for the Mexican Flag. Everyone died for the American flag.

Texas high school students raised a Mexican flag on a school flag pole, other students took it down. Guess who was expelled...the students who took it down.

California high school students were sent home on Cinco de Mayo, because they wore T-shirts with the American flag printed on them.

Enough is enough

We've bent over to appease the America-haters long enough. I'm taking a stand.

I'm standing up because the hundreds of thousands who died fighting in wars for this country, and for the American flag. And shame on anyone who tries to make this a racist message.

AMERICANS, stop giving away Your RIGHTS !

Let me make this clear! THIS IS MY COUNTRY !
This statement DOES NOT mean I'm against immigration !

YOU ARE WELCOME HERE, IN MY COUNTRY, welcome to come legally:

1. Get a sponsor !
2. Learn the LANGUAGE, as immigrants have in the past !
3. Live by OUR rules !
4. Get a job !
5. Pay YOUR Taxes !
6. No Social Security until you have earned it and Paid for it !
7. NOW find a place to lay your head !

We've gone so far the other way . . . bent over backwards not to offend anyone.

Only AMERICANS seem to care when American Citizens are being offended !

WAKE UP America ! ! !

Made in the U S A & DAMN PROUD OF IT!!!!!
Family history is so important to me, and I do hope you will enjoy your tour through the pages that we have constructed. Thanks again for visiting, and do come back often, as you will definitely see new things each time. Here are some shots of our home.

1971 - The only snow in Florida in 35 years here

Our fish pond

Our home 1971 to 1981


Our home from 1981 to 2005


Our back yard 1971 to 1981

Our home from 1981 to 2005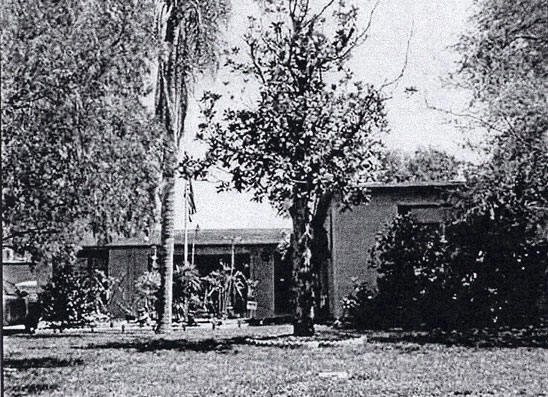 2005 - The drought caused all of this - so we had to re-landscape in 2006 - See below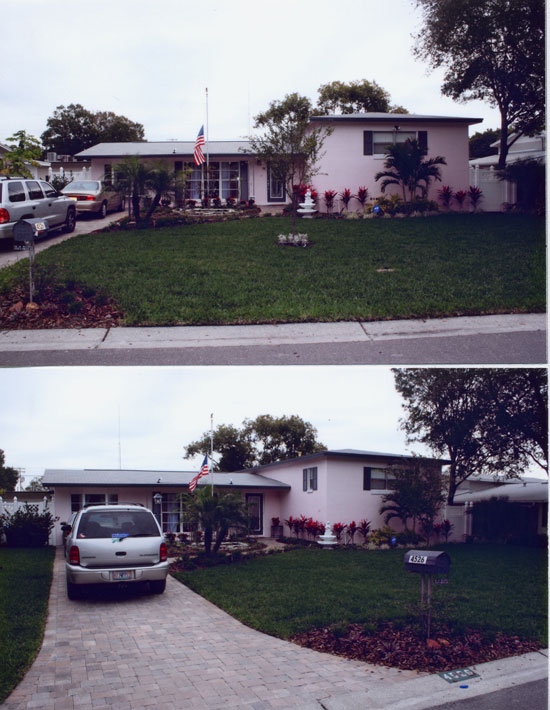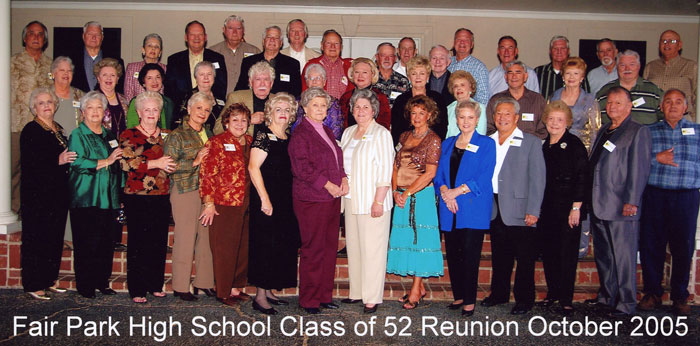 Our 53rd Class Reunion - I am on the second row - Second from the right in silver and gold dress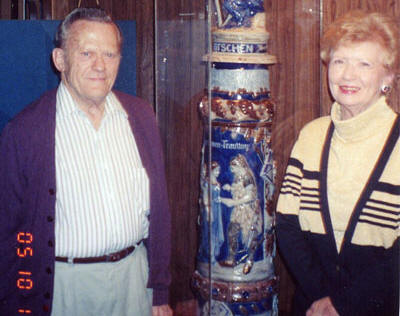 October-2005-Celebrating our 53rd Wedding Anniversary

2005 January - My 71st Birthday - 2005


2007 - May - Jackie - Heather - Chuck - Heather's High School Graduation


2009 January - My 75th Birthday - 2009



2009 - Thanksgiving - Jackie - 2009



2010 January - My 76th Birthday - 2010

| | | |
| --- | --- | --- |
| | | |

2011 January - My 77th Birthday - 2011




Still trying to decide which picture to leave on here - It's hell to get old, huh?

| | | |
| --- | --- | --- |
| | 2012 - January - My 78th Birthday - 2012 | |


2013 - My 79th Birthday - With Julia - 2013

Final thought for my life story: I hope our grandchildren remember that Grammy was right there with them riding the biggest, baddest, fastest, most heart thumping roller coaster rides in Florida when she was 70 years old!!!!
I hope when they are older, that will be one of their fondest memories of me.
In essence, that Grammy was a tough old bird, because she came from a pretty good flock of American pioneers.

~~~~~~~~~~~~~~~~~~~~~~~~~~~~~~~~~~~~~~~~~~~~~~~~~~~~~~~~~~~~~~~~~~~~~~~~~~~~~~~~~~~~~~~~~~~~~~~~~~~~~~~~~~~~~~~~~~~~~~~~~~~~~~~~~~~

September 6, 2014 - CLASS QUIZ FROM DAVID SUTTON

MY RESPONSE - Jacqueline Josey Helfrich

David, leave it up to you to make us all stop, sit down, scratch our heads for a moment and reflect back upon our lives. What fun you are.
You ask about when we reached the age of "18" and what our main focus was at that time. Goodness gracious, Granny, where to begin?

In my case, I had just turned 18 in January 1952 and planned to go to Northwestern State to study nursing upon graduation. Several in "my gang of shy girls" planned to do that or go into the Waves. Let me dredge up some of those "shy girls' names for all to see if you even remember any of them - Peggy Heable, Sylvia Fielder, Emma Jean Humphrey, Mary Robledo, Shirley Spinks, Mary Jo Moore, Dixie Tally, Ann Pelham, Rose Mary Portero, Bobby Ann Frye, etc.

I lost track of all of them except for one reunion when Peggy attended and one or two with Rosemary attending. I know that Rose Mary is still living, but would have to go to a list in my archives to find out about all the others. Does anyone know if we have lost all the rest of them?

Don't remember how it happened, but I went to Southern Bell and Telephone to apply for a job and they put me to work the same week I graduated as an "information" operator. Remember those days? Stayed there, married Chuck in October 1952 and continued to work on "Information," well into 1953, had our first of four sons to come and then we began traveling around the world for the next 18 years to complete 20 years of military service with Chuck in the air force. Trust me, you go through that and the shyness we were all afflicted with in high school was obliterated on my part - wiped out - gone forever - a thing of the past. In fact, today at the ripe old age of 80, I am told more times than I can count that I am a tad bit over the line of aggressive, pushy, domineering, etc. Not so. I just had to learn from the military if it needed to be done, I had to take charge and do it.

So, at 80 and down here in Florida, I found it interesting that one of our classmates, Jewell Bridges Hobson, lives in Riverview, almost in our backyard, and I check in on her off and on; just called her. Am forwarding David's e-mail to her.

I can tell everyone that we have so much to be thankful for just being on this side of the dirt. I wanted to take a train trip across the country while I was still in fairly good health, so booked flying from here to the Grand Canyon and then take a train over and up the west coast to Washington and then fly to Alaska for the ninth time, then take a train across Canada to NY and then to DC and then back to Tampa. Did I ever give anyone the impression that I ever thought I was smart? Well, now you all know better.

That was the only thing on my bucket list, and I was determined I was going to do it.

Chuck could not make that kind of trip with his back. Our sons could not take three weeks off, so Chuck's nephew, David Helfrich, just had to go with me because he could get that much time off. Had a great time, got to Alaska, in our bed and breakfast (which our son, Les, reserved for us - an airplane hangar - half of it contained a plane that a pilot was building - B&B right on the runway - the other half of the hangar was a living room, dining room, kitchen, bath and bedroom. Tile over a CONCRETE floor, remember that. David said at midnight one night in the hangar: "Aunt Jackie, I have to hand it to you, you might be 80 years old and I am only 46, but I can't keep up with you, I gotta go to bed." I am feeling my oats, proud of pounding a 46 year old into the ground, went into to brush my teeth (still lucky enough to have my own teeth with a few crowns) - stepped out and forgot to step DOWN, fell on the concrete floor full force on my BIG HIP - and the bruise - a couple of days later - was at least 12 inches up and down and almost 10 inches across. I told David that it was his fault that I got so cocky after he told me how young I still seemed to be - so I was dancing around in the bathroom and did not pay attention to the step. Trust me, that kind of fall slowed me down considerably.

But, it was A.O.K. when we flew up that day in the little red small plane around Mt. McKinley and landed on Ruth Glacier.
Second time I have done that - both highlights of my life. I was determined to go see that spectacular site again, if they had to take me in a wheelchair.

Then, on the train across Canada, (4 days) as I was opening a really heavy door, the train hit something on the track or swerved or something, jerked the door out of my hand, it flew back and hit me on my left eyebrow, full force, heaviest door I have ever seen, almost knocked me out - and that black eye (was it ever a doozy) stayed on my face for at least a week. Then, as we got closer to NY, I began coughing (trust me, fiercely coughing.) We went to the 9/11 Memorial and I had to finally say "Uncle!!!" I am, at that point, feeling as if I am 180 years old. Booked a plane flight, flew from NY back to Tampa, straight to the ER, drove myself, the ER docs could not believe it, because I was in bad shape. Wanted to admit me, thinking it was pneumonia at first. I said "NO" and as the doc was walking out of the room, shaking his head, I called him and crooked my finger at him and said "come here, please." I told him that he was dealing with an old woman, even as beaten up and bruised as that sad old woman was looking - but she had grown up during the depression and WWII and survived 18 years as a spouse in the military and survived four sons, so I knew my limits and I did not want to be put into the hospital. He laughed and said he was not going to argue with me. But, then it turned out to be severe bronchitis that could go into pneumonia, but it flat kicked my butt. Lasted for almost a month.

I am slowly coming back to being what I was before - I AM a determined soul. So, for all intents and purposes, I am very thankful to be alive at this age. Having seen so much in all of those years and so many leaving us at a much younger age, including one of our sons this year at the age of 55, I will not complain.
So many others would give anything to be in our shoes, even with the problems we all have at this age.

NOW, I have no idea how many read this far, but that is how I feel going from 18 to 80. I do look forward to hearing everyone else's opinions, too. David, again, how sweet of you to challenge us like this. Fun, fun. Gay Cook England told me the other night she plans to live to be 100. Shall we all go for the same goal? Hugs to all. Jackie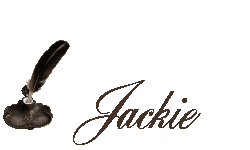 2 Parents
4 Grandparents
8 Great Grandparents
16 Great Great Grandparents
32 Great Great Great Grandparents
64 Great Great Great Great Grandparents
128 Great Great Great Great Great Grandparents
256 Great Great Great Great Great Great Grandparents
512 Great Great Great Great Great Great Great Grandparents
1024 Great Great Great Great Great Great Great Grandparents
Your maximum number of ancestors through 10 generations is 2046