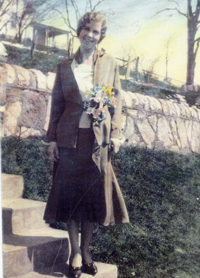 TURNER, Luella Barnett
October 10, 1905
June 18, 2007
Age - 101 years - 8 months - 8 days
Monte Vista Park Cemetery, Green Valley section of Princeton, VA
Luella was Chuck's 2nd cousin once removed
Her 2nd great granddad was Chuck's 3rd great granddad
Reson-Reizen (Reason) Barnett

TAZEWELL, Va. — Luella Barnett Turner, 101, of Tazewell, passed away at her home Monday, June 18, 2007.

She was born in Tazewell, Va. and was the daughter of the late John Gildersleeve and Kate Texas Heldreth Barnett, both Tazewell County, Va. natives.

She is the widow of Leonard Garland (Chick) Turner. In addition to her parents and husband she was preceded in death by two sisters, Della May Barnett, Nell Barnett; two brothers, John William Reese Barnett, Jackson Crockett Barnett; and foster daughter, Earline Pennington Holmes.

Survivors include: Nephew, James Barnett Sr. and wife Mary Faye Barnett; niece, Ann McMeans and her children William McMeans, Margaret Walthal and Mary Jane McMeans; great nephew, James Barnett Jr. and wife Martha; great-great nieces, Jamie Barnett and Cassidy Barnett; great-great nephew, Garrett Barnett; foster daughter, Eula L. Pennington Liddy and her children Beth Assenat, Donna Guill and Scott Liddy; and her dear and loyal friend, Dorothy Kinder.

Graveside services will be conducted Thursday, June 21, 2007 at 10:30 a.m. at Monte Vista Park Cemetery, Green Valley section of Princeton, Va. with the Rev. Kathie Wilson-Parker officiating. Those wishing to attend the service are asked to meet at the funeral home at 10:00 a.m. to proceed to the cemetery or meet the family there. In accordance to her wishes there will be no visitation.

In lieu of flowers, the family encourages you to make a donation to a local charity.

Hurst-Scott Funeral Home of Tazewell, Va. is serving the family of Mrs. Turner. Those wishing to express sympathy online may do so at www.hurstscottfuneralhomes.com.
Bluefield Daily Telegraph, Bluefield, WV - June 20, 2007
http://www.bdtonline.com/obituaries/local_story_170210019.html