Rebeka Ann Helfrich's Memories of Being a Girl Scout
18 years old - September 6, 2004 - Interviewer: Grammy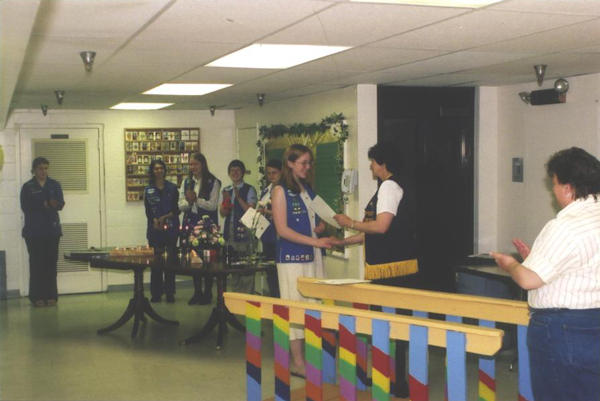 Rebeka receiving her Silver and Bridging Award



Working on my Gold Award which is the highest Girl Scout award (almost finished)


BULLETIN:
Rebeka received her GOLD AWARD on December 19, 2005!!!!!
See January 31, 2006 article below
"I went into the brownie scouts at the age of seven and mainly earned badges as opposed to camping out. I remember "Thinking Day" which was an International Day where each troop represented a country, and my troop represented the Congo. We had to do a lot of research on the Congo and had to make a dish that they make in the Congo which had rice in it. The other brownie scouts actually ate it, too.
In the 4th grade, I bridged up to a junior rank, I met up with the current troop and spent one year trying to get as many badges as possible and that was not so much fun. After that, we worked only on fun badges, such as crafts, arts, and cooking. We also went to encampments, where girl scout troops from all over the states and even from other countries attended. The first one was the main event and it rained the entire time - for three days. We got a badge that stated "we survived the rain event."
The next encampment I missed because I was in Florida. Glad I missed it though, because some of the girls had heat stroke during that time. They also got yelled at for having water fights.
The last one I went to, there was lightning, rain, sun, high winds, and we were quite busy trying to save our tents which were blowing away. Some of the tents got torn and had holes in them, and then it poured down rain, and we had about three inches of rain in our tents. Needless to say, we all had to bail out early, not making it through the night. We also taught the younger girl scouts how to make box ovens.
I enjoyed the scouts, it was lots of fun. The silver award is the second highest award that a girl scout can earn. For that award, seven of us divided up like the Hawaiian Islands; Lanai was my island, and I was assigned the native food. I brought in pineapple chunks, leichi, papaya, and mango. We did swimming games, and tag games.
As of this date, I am working on the Gold Award, which is equivalent to the Boy Scouts' Eagle.
I hope to have that achieved by the summer of 2005."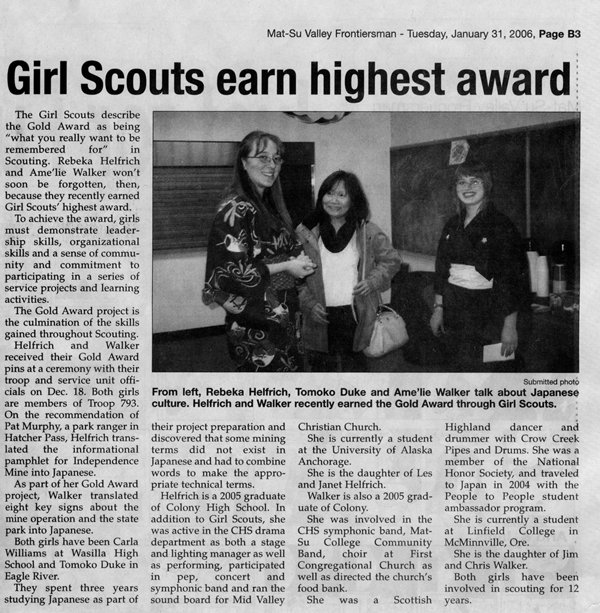 Left - Rebeka Ann Helfrich - December 19, 2005