Officers' Club
Barksdale AFB,
Bossier City, LA

Jacqueline Josey Helfrich




Harold Reddin - James McDade - Glenn Pickett - Irv Heard - Jacqueline Josey Helfrich - Joe May - Jack Staggs - Mary Ann Teddlie Veatch - Sara Brocato Gegg - Arthur Escott - Raymond Lemoine - Ferne Dilbeck Lawrence in front
\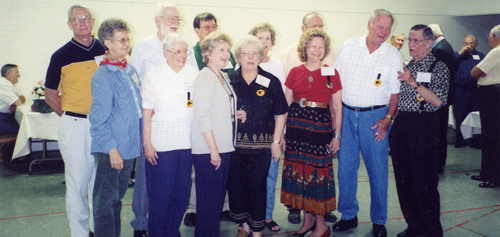 Front Row - Martha Tucker Long - Addie Claire Ensminger - ? -
Betty Jane Black Robinson - Clarice Anderson - Harley Brown - Billy Plumb
Back Row - ? - ? - Jimmy St. Vigne - Joy Tilley Fergus - ? (Help on the names for these four question marks, please)
We just had our 50th class reunion in 2002. In 1952, our graduating class numbered 356 and we were fortunate enough to have 70 classmates attend that reunion. All of the folks in this picture are classmates from 1952 and we have all of their names on the back of the photo. Bill Plumb, our class photographer, did a magnificent job with so many in one picture. This, truly, is one of my most prized possessions, and I would not take anything for this photo. Don't you think we have all held up quite well over that many years? I am in the blue dress in the center of the front row. I made the frame black and gold, which just happened to be our school colors. We were the infamous Fair Park High School Indians!!
The classmates are listed below in the order of the front row - left to right, second row, left to right, etc. Several folks helped with the names, so if there are any mistakes, please let me know. Again, what a treasure this is.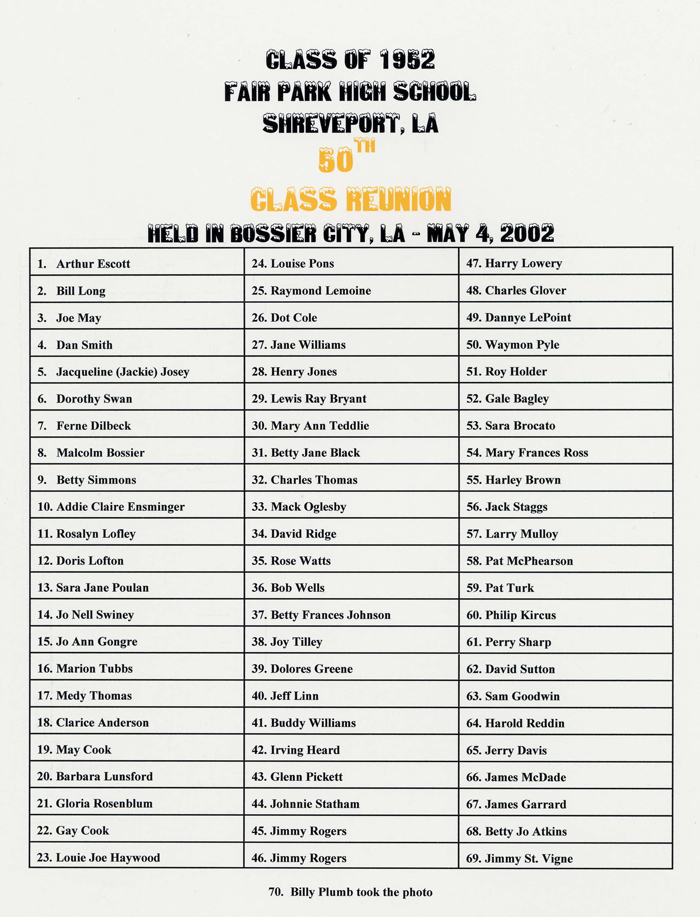 Bill Plumb was #70, but he took this picture, so he is not in this one.
We will have to make sure he is in the 55th picture in 2007.
But, for now, here is a separate picture of Bill Plumb from the 50th reunion.

Background Music
"Photographs and Memories"