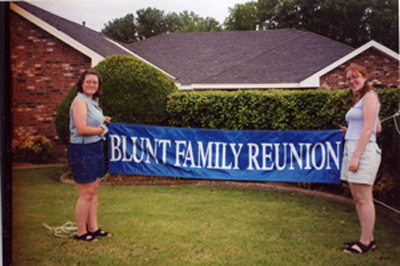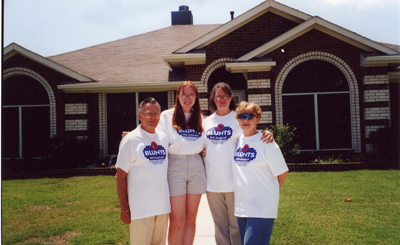 June 2001 - Fort Worth, TX
Top photo - Heather and Rebeka Helfrich
Bottom photo - Chuck-Rebeka-Heather-Jackie Helfrich


This was an exceptionally enjoyable Blunt Reunion, because our two granddaughters, Rebeka and Heather, came down from Alaska to spend two weeks with us in Florida and then we all went to Texas to the Blunt Reunion. The girls learned a lot about our Blunt history before we left Tampa, as I was entering a lot of my Blunt genealogy into the computer at that time on that part of our family. It did my heart proud to hear Rebeka and Heather talking so knowledgeably about the Blunt Family Tree at the reunion. They especially enjoyed the friendships they developed with long lost cousins they had never met. They look forward to seeing all of them again at a future reunion. We had such a good time. Please enjoy the pictures.

The Blunt Gang

Alena Haren- Donna Vanderweerd-Paul Blunt

Alena & Jim Haren

Jack Coffee - Greatest 4th cousin in the world.

Opal Rosalie Greene Jones. Top senior attendee
Jackie's 1st cousin once removed.

DeAlva Eitelman and Peggy Blunt and ?
Does anyone know his name?


Joann Laverne Jones Williamson, Kristina Kay Williamson Chester,
Opal Rosalie Greene Jones.
Mother, daughter and granddaughter

Donna Vanderweerd
and
Jo Marie McKinley

Heather Lynn Helfrich and Paul Blunt

Paul Blunt and Heather Helfrich

Jacqueline Helfrich - Opal Rosalie Greene Jones
Opal's daughter, Joann Laverne Jones Williamson
(Opal's mom: sis of Granny Mattie Blunt Josey)

Rebeka Helfrich, Chuck Helfrich, Jacqueline Helfrich, Jack Coffee,
(our Blunt ggg-grandads were brothers) Nelda Coffee & Heather Helfrich

Rebeka and Heather Helfrich

We felt this was quite poignant.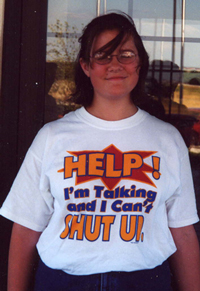 Heather Lynn Helfrich
She was such a good sport
about wearing this shirt that
we bought for her.
Heather lights up any room with her energetic personality.